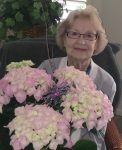 Marvene Howland Rich, 92, of Phoenix, AZ., and formerly of
Warren, PA., died Tuesday evening, January 10, 2017 in
Goodyear, AZ. She was born July 14, 1924 in Morgantown, Ohio
to the late Earl J. and Eva Jennie Morris Howland.
She was a longtime Warren area resident, moving to Phoenix, AZ
in 1997. Marvene was employed as a cashier with the former
Loblaws Grocery Store of Warren, PA. She was a member of St.
Joseph R.C. Church, the church Catholic Daughters of America
and Altar Rosary Society.
Marvene is survived by her 2 children – Sharon M Rich of
Mebane, NC and Terry D. Rich and his wife, Renee of Goodyear,
AZ., 2 Grandsons – Terry M. Rich of San Diego, CA., and Joshua
Hunt of Mebane, N.C., 3 Great Granddaughters – Abigail,
Madilyn and Samantha Rich of San Diego, CA., 2 Great
Grandsons – Caleb and Logan Hunt, several nieces and nephews.
In addition to her parents, she was preceded in death by her
husband, Sam Rich whom she married June 2, 1943 in Dayton,
Ohio who died January 8, 2006, 4 Brothers – Ernest, Beryl, Lester
and Melvin Howland, her twin sisters – Vergie Tolle, Violet
Mongold.
Friends may call at St. Joseph R.C. Church, 600 Pennsylvania
Avenue West, Warren, PA., on Tuesday, January 17, 2017
from 9:30 A.M. until 10:30 A.M. when a Mass of Christian Burial
will be conducted by Fr. Richard J. Toohey, Pastor, officiating.
Interment will be in St. Joseph R.C. Cemetery. Those wishing to
place memorials may do so through a charity of one's choice. E-
mail condolences may be sent by visiting
www.lewisfuneralhomeinc.com The Donald E. Lewis Funeral
Home, Inc. has been entrusted with funeral arrangements.