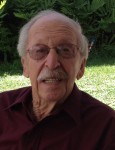 Martin E. (Gene) Nelson, 88, of N. Warren, PA. and formerly of Pittsfield, PA., died Thursday morning, August 7, 2014 at 12:15 A.M. due to complications from cancer. Gene was born January 11, 1926 to the late Clarence William and Arlie Belle Johnson Nelson. He was born on Nelson Hill, Freehold Twp., where he continued to reside until recently, he moved to Warren, PA. He had served in the U.S. Army from 1951 to 1952, where he obtained the rank of Sergeant. He was stationed in Germany during the Korean War. He worked for Warren Rural Electric Corporation for 42 years retiring in 1988. Gene was a long standing member of Berea Lutheran Church, where he was very active. After moving to Warren he attended First Lutheran Church. He very much enjoyed the outdoors, especially hunting, fishing, bicycling, hiking and camping, all of which he especially loved sharing with his family. He still bowled with the Sunshiners and golfed at Maplehurst with the Senior Golf League.
He is survived by his wife, Nancy Engstrom Nelson whom he married May 19, 2007 at Berea Lutheran Church, Pittsfield, PA., 3 Children – Randy Nelson and wife, Lois of Northeast, PA., Linda Ross and husband, Earl of Warren, PA. Brenda Hunter and husband, Marc of Russell, PA., 3 Stepchildren – Kirsten Perry and husband, Ernest, of Eldred, PA., Dan Engstrom and wife, Ronda, of West Newton, PA., Dave Engstrom and wife, Kristy, of Warren, PA., Niece – Joyce Rowland and husband, Ken, of Warren, PA., Nephew – Bill Hartford and wife, Mira of San Jose, California, 5 Grandchildren, 7 Step Grandchildren, also many nieces and nephews.
In addition to his parents, he was preceded in death by his 1st wife, L. Joyce Colter Nelson who died in 2004, 5 Brothers – Wilber T., Allen W., Joseph M., Charles R., Warren Laverne Nelson and 1 Sister – Mary E. Sproveri, 1 Grandson – Jezidiah Brannon.
Friends may call at the Donald E. Lewis Funeral Home, Inc., 304 East Street, Warren, PA. on Sunday, August 10, 2014 from 5 to 8 P.M. and on Monday, August 11, 2014 from 10:00 to 11:00A.M. at First Lutheran Church, 109 W. Third Avenue, Warren, PA. A funeral service will follow at 11:00 A.M. with Rev. David Blank, Pastor and Rev. Jeffrey Ewing, Associate Pastor, Rev. Seth McClymonds, Pastor of Covenant United Methodist Church, all officiating. Interment will be in Warren County Memorial Park where full military honors will be conducted by members of the Clarendon/Sheffield V.F.W. Funeral Detail and the U.S. Army funeral personnel. Those wishing to place memorials may do so through Hospice of Warren County, 1 Main Avenue, Warren, PA. 16365 or a charity of one's choice. E-mail condolences may be sent by visiting www.lewisfuneralhomeinc.com