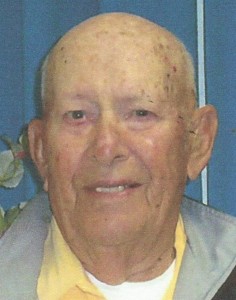 Mark G. Wolfe, 98, of Warren, PA, died Saturday, October 15, 2011 at Golden LivingCenter Kinzua. Born June 29, 1913 in Kellettville, PA to the late Joseph and Bertha Shunk Wolfe, Mark resided in Warren most of his life. He was a 1933 graduate of Tionesta High School and achieved the rank of Sergeant in the U.S. Army's 77th Division during WWII. He was employed with the Pennsylvania Railroad for 38 years and owned and operated Wolfe Cycle Shop for many years. Mark was an avid hunter, fisherman, golfer and motorcyclist. He was a life member of the Warren Elks Lodge.
He is survived by his wife- Rose Beck Wolfe, whom he married
on January 17, 1942 in Warren; Three children-  Sherry Vilello and her husband
Chip, of Cogan Station, PA, Robert K. Wolfe and his wife Carol, of Russell, PA, and Nancy Williams of Erie, PA; Two siblings- Richard Wolfe of Clarendon Heights, PA, and Joe Wolfe and his wife, Marian of Pittsburgh, PA; Three grandchildren- Brenda Glaser and her husband Jay, Jason Cameron, and Pam Principe and her husband, Jim; Two great grandchildren- Tanner and Makenzie Mitchell.
In addition to his parents, Mark was preceded in death by an infant brother, Robert Wolfe, Wilma Williams, Harry (Keith) Wolfe and Randall (Ted) Wolfe.
Funeral services are private and at the convenience of the family. Burial will be at Foster Cemetery. Memorial contributions may be made to the charity of choice. The Donald E. Lewis Funeral Home, Inc. is entrusted with arrangements. Online condolences may be offered at www.lewisfuneralhomeinc.com.