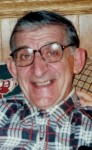 Marion L. Care, 88, of Warren, PA died Thursday, May 15, 2014 at the Rouse Warren County Home.
Born on September 20, 1925 in Mayburg, PA he was the son of the late Bruno and Josephine Farone Care. Marion had lived in Warren since 1944 and had previously resided in West Hickory, PA. He had worked with GTE Sylvania for 33 years, retiring in 1987. He was also a self-employed barber from 1969 to 1980. Marion was a member of Holy Redeemer R.C. Church where he was an usher. He was also a member of the Warren Knights of Columbus. He was an avid hunter, fisherman and enjoyed camping and snowmobiling.
Marion is survived by his two daughters, Mary Ann Zigler and her husband, Kenneth, and Susan Nelsen, all of Warren, PA, four grandchildren, Patrick Zigler, Nathan Zigler, Shawn Smith and Trinity Zock, several great-grandchildren, one sister, Joanne Stahlman of Buffalo, NY and several nieces and nephews. In addition to his parents, Marion was preceded in death by his wife, Theresa Scalise Care, whom he married on February 14, 1953 in Warren, PA and who died on June 1, 2012. He was also preceded in death by a grandson, Justin Smith, who died on May 31, 2012, one sister, Mary Fioravanti, and three brothers, Carmen Carey, Joseph Care and Samuel Care.
Friends may call at Holy Redeemer R.C. Church, 11 Russell Street, Warren, PA on Monday, May 19, 2014 from 11:00 A.M. until 12:00 P.M. A Mass of Christian Burial will be conducted at 12:00 P.M. Monday at Holy Redeemer R.C. Church with Fr. James Gutting, Pastor, officiating. Interment will be in St. Joseph R.C. Cemetery, Warren, PA. Those wishing to place memorials may do so through the Holy Redeemer R.C. Church Building Fund, 11 Russell Street, Warren, PA 16365, or to the Allegheny Community Center, 42 Clark Street, Warren, PA 16365. E-mail condolences may be sent by visiting www.lewisfuneralhomeinc.com