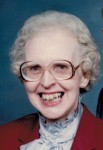 Margaret Williams Christian, 96, a resident of the Rouse Suites,
Youngsville, PA., died there Monday morning, August 10, 2015
after a brief illness. She was born June 19, 1919 in Tiona, PA.
Margaret was the daughter of Carl and Anna Kellner Williams.
She was a lifelong Tiona area resident. She was a 1936 graduate
of Warren High School. Margaret was employed for 36 years with
the former New Process Company in the accounting and returns
departments, retiring in 1972. She was a member of Tiona United
Methodist Church, 50 year member of the Order of the Eastern
Star, active member of the Tiona Grange, Sheffield Senior Center.
She was always a care giver who retired early to take care of her
mother. She was always loved by everyone, she was a person
who possessed a positive attitude. She is remembered as A
Happy Go Lucky Person who enjoyed traveling and
photography.
She is survived by her nieces and nephews whom she considered
her children, John Edwards and wife, Mary of Youngsville, PA.,
David Edwards and wife, Diane of Ashville, N.Y., Nancy M.
Hicks of Woodbridge, VA., Cynthia and Charles Williams both of
Cockeysville, MD., Diane Wells and husband, John of Orlando,
FL., Neil Williams and wife, Betty of Ocala, FL.
In addition to her parents, she was preceded in death by her
husband, Armour Christian whom she married December of 1952
in Kane, PA., 1 Sister – Marie Edwards, 2 Brothers – Arnold and
Bert Williams.
Friends may call at the Donald E. Lewis Funeral Home, Inc., 304
East Street, Warren, PA., on Thursday, August 13, 2015 from 12:00
Noon until 1:00 P.M. when a funeral service will be conducted by
Rev. Terence Teluch, Pastor of Sheffield United Methodist
Church, officiating. Interment was in Pine Grove Cemetery,
Russell, PA. Those wishing to place memorials may do so
through Tiona United Methodist Church, 111 Six Mile Road,
Tiona, PA. 16352, or Hospice of Warren County, 1 Main Avenue,
Warren, PA. 16365. E-mail condolences may be sent by visiting