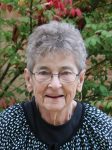 Margaret Hartweg Albaugh Dallenbach, known to friends and family as Peggy, 86, of Sheffield, PA., passed away surrounded by her family on Friday morning, December 15, 2017. Peggy was born June 19, 1931 in Warren, PA. She was the daughter of the late Louis Leo and Mildred Mulvey Hartweg.
Peggy was a 1949 graduate of Warren High School. Peggy was crowned Warren's 4th of July Queen. She and her court had their own float for the parade. Peggy's biggest love was being with her grandchildren and great grandchildren. Peggy also loved to dance, build puzzles and complete crossword puzzles. Peggy worked well into her 70's, she was very proud, strong, independent and a very sweet and witty woman who was loved by many.
Peggy is survived by 3 children, Karen Kramer of South Park, PA., Judy Shrader and husband, Terry of Cherry Grove, PA., and Barb Rockwell and her husband, Mark, of Tiona, PA., 6 Grandchildren – Terry Schrader, Kristi Schrader, Kari Kramer, Ashley Kramer, Kaylee Morse and Taylor Rockwell, 6 Great Grandchildren – Hunter Loomis, Alexis Lockamy, Hannah Lockamy, Khloe' Morse, Conner Rockwell and Lily Morse, 3 Brothers – William Hartweg, Louis Hartweg and Bernard Hartweg, many nieces and nephews.
In addition to her parents, Peggy was preceded in death by her late husbands, Donald Eugene Albaugh and Raymon Dallenbach, an infant son, Donald Lewis Albaugh, a son-in-law, Dennis Kramer and a sister, Barbara Palacious Hartweg.
Friends may call at the Donald E. Lewis Funeral Home, Inc., 304 East Street, Warren, PA., on Monday, December 18, 2017 from 11:00 A.M. to 1:00 P.M. The funeral and committal service will be held at 1:00 P.M. following the visitation at the funeral home with Fr. James Gutting, Pastor of St. Anthony's R.C. Church, officiating. Interment will be in St. Joseph R.C. Cemetery. In lieu of flowers, those wishing to make a memorial contribution may do so through Hospice of Warren County, 1 Main Street, Warren, PA., 16365. E-mail condolences may be sent by visiting lewisfuneralhomeinc.com/send-condolences/