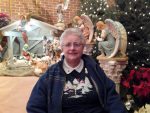 Marcia Bohrer Trachier, 75, of Warren, PA., died peacefully at her
home, surrounded by her family. She was born June 19, 1941 in
Troy, N.Y., to the late Herman G. and Millicent M. Fallon Bohrer.
Marcia resided in Warren, PA., since July of 1990 and was a 1960
graduate of Catholic Central High School, Troy, N.Y.
She was employed as township secretary-treasurer with Glade
Twp. from July of 1993 until she retired in 2010.
Marcia was a member of St. Joseph R.C. Church, where she
served as a Eucharistic minister, and was a past president of the
church altar rosary society. She has a leader of TOPS #1251.
She enjoyed quilting. Marcia was a devout Catholic, who was
strong in her ministries to her church and serving others. Her
children stated she was an amazing mother, who was an angel in
life and is now an angel in heaven.
Marcia is survived by her husband of 55 years, Joseph H.
Trachier, Jr., whom she married December 26, 1961 at Blessed
Sacrament Church, El Paso, TX. , 3 Children – William J. Trachier
of Warren, PA., George E. Trachier and wife, Jennine of Tacoma,
WA., Carol R. Stumme of Avondale, AZ., 4 Grandchildren –
Andrea N., Kaitlyn and Carlee Stumme all of Avondale, AZ.,
Drew Trachier of Tacoma, WA., 4 Siblings– Millicent Cobb of San
Antonio, TX., Sr. Milice Anthony Bohrer, ESJ of Cassanovia, N.Y.,
John Edward Bohrer and wife, Patricia of Vero Beach, FL, David
Anthony Bohrer and wife, Martha of Meridian, Miss., several
nieces and nephews also survive. In addition to her parents, she
was preceded in death by her sister, Christine Belouin.
Friends may call at the Donald E. Lewis Funeral Home, Inc., 304
East Street, Warren, PA., on Friday, June 9, 2017 from 6 to 8 P.M.
A Mass of Christian Burial will be conducted at St. Joseph R.C.
Church, 600 Pennsylvania Avenue West, Warren, PA., on
Saturday, June 10, 2017 at 10:00 A.M. with Rev. Richard
Tomasone, Pastor, officiating.
Those wishing to place memorials may do so through St. Joseph
Church Educational Center Fund, 600 Pennsylvania Avenue
West, Warren, PA., 16365 or the Warren Unit of the American
Cancer Society, 2 Crescent Park, Warren, PA. 16365. E-mail
condolences may be sent by visiting