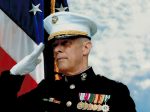 Lt. Colonel Burt E. Alexander, 71, of Warren, PA., died peacefully Tuesday morning, March 6, 2018 at his residence. He was born June 21, 1946 in Warren, PA., son of the late Robert and Margaret Beckenbach Alexander. Burt was a 1964 graduate of Warren High School and a 1968 graduate of West Virginia Wesleyan College where he was a member of Theta Xi Fraternity. He earned his Master's Degree from Pepperdine University.
Burt graduated from the Marine Corps Platoon Leaders Course at Quantico, VA and was commissioned as a second lieutenant in 1968. He served with the U.S. Marine Corps for 23 years, serving in combat as an artillery forward observer with the 3rd Marine Division from 1969-1970 in Vietnam. After returning from Vietnam he served an OCS platoon commander, Officer Selection Recruiter, Artillery Battery Commander, and Intelligence Officer. He also served under Secretary of State Colin Powell in the JCS office at the Pentagon. Burt Alexander retired as a Lieutenant Colonel in 1989.
After his USMC retirement, he was employed with QualPro Inc., Beaulieu Commercial, ORIX Financial Services as Executive Vice President, Chief Administration Officer, and McKissock Learning as Chief Operating Officer.
Mr. Alexander was active in giving back to his community. He was a scout for the Warren office of Marine Corps Recruitment. During his years at Camp Pendleton CA, Burt was instrumental in community affairs, serving as Chairman on the Fallbrook, CA., School Board Change Committee, Scout Leader for several Cub Scout and Boy Scout troops. He also served as the Warren, Marine Corps League Detachment Commandant, the annual 911 Ceremony Speaker at Warren County Memorial Park. Mr. Alexander served as Chairman of the Warren County Republican Committee for several years, and worked to establish the Veterans Memorial at Oakland Cemetery.
He is survived by his 3 Sons – William Andrew Alexander (Suzanne) of Springfield, VA., Jeffrey Robert Alexander (Anna) of Elkhart, IN., Christopher Edward Alexander (Suzie) of Woodbridge, VA., longtime Companion, Tish Harriman of Warren, PA., her daughter – Jennifer Lindell, and her Grandchildren Christopher and Ian Lindell, 2 Sisters – Martha A. Ginzl (Thomas) of Estero, FL., Betty A. Hill of Warren, PA., 4 Grandchildren – Hunter, Chase, Sarah and James, several nieces and nephews.
Friends may call at the Donald E. Lewis Funeral Home, Inc., 304 East Street, Warren, PA., on Saturday, April 7, 2018 from 10:00 A.M. to 11:00 A.M. where a memorial service will be conducted by Rev. David Heckman, family friend and retired United Methodist Church Minister. Those wishing to place memorials can do so through the Marine Corps Scholarship Fund ww.mcsf.org. E-mail condolences may be sent by visiting www.lewisfuneralhomeinc.