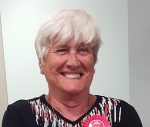 Louise M. Williams, 80, of Warren, PA., died Thursday morning, October 5, 2017 as the result of an automobile accident in Pittsfield Twp. She was born April 29, 1937 in Long Island, N.Y. and a daughter of the late Edward and Viola Mueller Eldert.
Louise was a resident of Warren since 2001, moving there from Youngsville, PA. She was employed as a returns inspector for 24 years with Blair Corporation retiring in 2002. Louise was a member of Warren Covenant United Methodist Church, the church choir and funeral luncheon committee. She was a formermember of the Youngsville Volunteer Fire Department Ladies Auxiliary. She enjoyed bowling in Youngsville, PA., completing jig saw puzzles, sewing, knitting, gardening, baking and spending time with her coffee friends and most of all with her family.
She is survived by her 3 daughters – Ellen Wilson and husband,Scott of Warren, PA., Laura Garris and husband, Todd of Youngsville, PA., Ann Deppen and husband, Aaron of Manheim, PA., 2 Sisters – Helen Lecompt of Carteret, N.J., Joan Reed of Whiting, N.J., 8 Grandchildren – Alicia Gardner, Kristen Stanko, Samantha and Steven Garris, Kassandra Wilson, Corrine Deppen, Kyleigh Wilson, Colton Garris, 6 Great Grandchildren – Tiffany, Zach, Kyle and Nicole Gardner, Myla and Kaydence Lyle, 3 Great Great Grandchildren – Chloe Gardner, Johnny Cressley and Kasyn Gardner. In addition to her parents, she was preceded in death by her husband of 49 years, Edward Everett Williams whom she married September 9, 1961 in Rahway, N.J., who died May 6, 2011, 1 Daughter – Cynthia Ford, 1 Grandson – Michael Ford, 2 Brothers – Bob and Ed Eldert, 2 Sisters – Jean Lawrence and Doris Lumbardini.
Friends may call at the Donald E. Lewis Funeral Home, Inc., 304 East Street, Warren, PA., on Sunday, October 8, 2017 from 2 to 4 and 6 to 8 P.M. where a funeral service will be conducted Monday, October 9, 2017 at 11:00 A.M., with Rev. Don Deppen, family friend and member of First Church of God, officiating. Interment will be in Warren County Memorial Park . Those wishing to place memorials may do so through contributions to Covenant United Methodist Church, 1624 Pennsylvania Avenue East, Warren, PA. 16365 or Don Mills Achievement Center, 667 Hospital Drive, Suite J, Warren, PA. 16365 or the Warren Y.M.C.A. 212 Lexington Avenue, Warren, PA. 16365. E-mail condolences may be sent by visiting