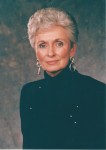 Lois Sigworth Conaway, 86, a lifelong resident of the Warren area, died unexpectedly but peacefully last Thursday morning, March 10, 2016. She had been a resident of the Rouse Home in Youngsville since last October.
Lois was born in Starbrick, PA on December 25, 1929—Christmas Day, a birthday that her children always regarded as auspicious, even though their mom was surely cheated out of many a birthday party. She was the daughter of Harold Clinton Sigworth and Elizabeth (Betty) Frank Sigworth, who preceded her in death in 1978 and 1995, respectively.
Lois graduated from Warren High School with the Class of 1945.
Lois was successful in a diverse series of jobs. In the early 60's, she worked for the U.S. Census Bureau, driving her Chevy Nova over northwestern Pennsylvania backroads to count citizens and document their lives. Later, she managed advertising for Betty Lee, one of several prominent dress shops in Warren in those days. The job included writing and hosting a daily radio program on WNAE in which she conducted interviews and discussed the issues of the day. Lois's son Tom remembers the marvel of listening to his mother's voice on days when he stayed home from school.
In the late 60's, when she joined the Women's Merchandising Department at New Process (now Blair) as an administrative assistant, Lois hit her stride, finding her passion and her career. A former colleague described her in business as "talented, driven, and fierce." She had an intrinsic sense of style that—combined with her Starbrick roots—gave her a unique understanding of the aspirations of the women she referred to collectively as "my customer." She also had prodigious confidence in her decisions.
Lois rose quickly through the ranks at Blair, eventually becoming its first female officer. Her work at Blair involved frequent international travel and required her to spend lots of time in New York City, which she came to know well and cherish. Lois loved her job. She retired as Assistant Vice President of Women's Merchandising.
Lois was engaging and inclusive, and would strike up conversations with people she met on airplanes, at parties, in waiting lines, at dentists' offices… everywhere. She'd learn all about their lives, their children, and their plans for the future. Afterward, she'd reflect, "I don't know why; we just hit it off!" which usually sparked bemused eye-rolls from her kids.
Lois was a talented cook and a brilliant baker. She and her husband Chuck loved to entertain in their lovely Georgian home on Conewango Avenue; there was always delicious food, beautifully presented, and she was an impeccable hostess. She loved trying new recipes, introducing guests to new flavors. After a fall on the ice in 2008, Lois inexplicably lost her senses of taste and smell. Undeterred, she continued to host dinner parties and bake her amazing pies, even though she couldn't fully enjoy her own creations.
One of Lois's greatest loves was music, especially jazz. It's comforting to her family to know that when she passed, she was wearing her ever-present headphones, tapping her toes to the last. She was very knowledgeable and possessed an exhaustive musical library. She loved the traditional performers—Bill Evans, Count Basie, Oscar Peterson, and Ray Brown—but also appreciated the talents of more recent stars like Lady Gaga and Amy Winehouse. She met George Shearing following his performance in Warren in the 70's and they became lifelong friends. Anyone would tell you: Lois definitely was cool.
Having grown up on its banks in Starbrick, and lived on or near it during much of her adult life, Lois loved the Allegheny River. Her friends and family recall sitting on the porch of her house on the Shipmans Eddy watching fish rise to an evening hatch and birds skim the water's surface in the setting sun. Lois had a keen appreciation of natural beauty, and particularly enjoyed watching birds feeding outside during the stillness of winter.
Lois bore a generosity of spirit that was rooted in her faith—she was a member of the First Presbyterian Church of Warren for more than 60 years—and also found expression in her politics. She was a deep thinker and lifelong progressive. In her children and grandchildren, she fostered compassion for the world's disenfranchised and under-served. Even in her late 70's, she campaigned tirelessly for Barack Obama in 2008, and greeted his election with bouyant optimism. She was young at heart.
Lois's children and grandchildren were a source of enormous joy. She delighted in their accomplishments in high school and college, and was so proud to see them become engaged and engaging citizens of the world.
Lois Conaway is survived by her husband, Charles (Chuck) Conaway, whom she married in Warren in 1999; her son Tom Bartholomew (Sarah Mack); her daughters Mary Beth Bartholomew (Carol Whitlatch) and Connie Waxman (Neil); her step-daughter Cathy Simpson (Patrick); her grandchildren, Hannah Bartholomew Block (Nick), Bevin Simpson, Drew Waxman, Sam Bartholomew, Peter Waxman; Ryan Simpson, Michael Cunetta, Nicholas Cunetta, Kyle Whitlatch, and Gabriel Whitlatch; her brother, James (Jim) Sigworth (Irma); her brother-in-law Raymond Bartholomew (Joy); and numerous nieces, nephews, and cousins.
In addition to her parents, she was preceded in death in October, 2013 by her former husband of 42 years, Gayton James (Jim) Bartholomew.
Visiting hours will be at the Donald E. Lewis Funeral Home, Inc., 304 East Street, Warren, PA., on Friday, March 18th from 4:00 pm until 7:30 pm.
Family will greet guests at the Warren First Presbyterian Church, 300 Market Street, on Saturday, March 19th at 10:00 am. A funeral service will follow at 11:00 am with the Rev. Jeffrey Ott, Pastor, officiating. Interment will be at Warren County Memorial Park. The family will host a luncheon at the Woman's Club of Warren following the funeral and interment.
The family requests that in lieu of flowers, donations be made to: Paws Along the River Humane Society, 212 Elm St; Warren, PA 16365 (www.pawsalongtheriver.org)
E-mail condolences may be sent to: www.lewisfuneralhomeinc.com