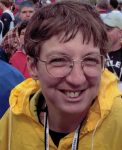 Linda Ruth Buser, 54, of Warren, PA., died peacefully at her
residence on Wednesday afternoon, November 8, 2017 after
suffering an apparent heart attack. She was born in Titusville,
PA., on August 22, 1963 to Thomas H. and Janet R. Kerr Buser,
who survive of N. Warren, PA. Linda has resided in Warren
since 1978 and was a graduate of the Warren Special Education
program through the Warren County School District in 1984. She
was employed with B.E.I. Enterprises for several years and was
formerly employed with Wendy's Old Fashioned Hamburgers
Restaurant. She was of the Catholic faith and an active member
with the Warren County Special Olympics, participating in
numerous sports. She especially enjoyed their swimming
(backstroke), bowling and walking for track competitions.
In addition to her parents, she is survived by her sister – Carol
Graham and husband, Richard and their son, Gunnar Graham of
Pittsburgh, PA., her brother – Jeffrey Buser and his son, Asher
Buser of N. Olmsted, OH., several aunts, uncles and cousins.
Friends may call at the Donald E. Lewis Funeral Home, Inc., 304
East Street, Warren, PA., on Sunday, November 12, 2017 from 2 to
5 P.M. where a funeral service will be conducted Monday,
November 13, 2017 at 2:00 P.M. by Fr. James Gutting, Pastor of
Holy Redeemer R.C. Church, officiating. Interment will be in
Union Cemetery, Titusville, PA. Those wishing to place
memorials may do so through the Warren County Special
Olympics, P.O. Box 752, Warren, PA., 16365. E-mail condolences
may be sent by visiting www.lewisfuneralhomeinc.com