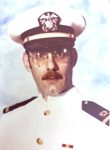 Lewis H. Brower, 71, of Warren, PA, passed away on April 19,
2018, at Warren Manor, Warren, PA.
Born on December 16, 1946 in Paterson, NJ, he was the son of the
late Abraham and Gertrude Brower. Lewis had lived in the
Warren area for the past 6 months, having previously resided in
Erie, PA, and Las Vegas, NV. He had served with the U.S. Army
from 1971 to 1973 and later served with the U.S. Navy Seabees
from 1975 until 1984. Lewis had been employed for many years as
a construction manager with the Seville Group.
Lewis is survived by his 3 sons – Dr. Justin C. Brower of Warren,
PA, Kyle W. Brower of Oakland, CA, and Ian J. Brower of
Pittsburgh, PA; 2 granddaughters – Ayslee Brower and Charlotte
Brower; and 1 brother – Mike Brower of Las Vegas, NV.
Services will be private and at the convenience of the family.
Arrangements have been entrusted to the Donald E. Lewis
Funeral Home, Inc., 304 East Street, Warren, PA. E-mail
condolences may be sent by visiting