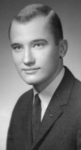 Lester N. Nero, Jr., 79, formerly of Painesville, OH, died Sunday evening, August 28, 2016 at The Rouse Home in Youngsville, PA.
Born July 27, 1937 in Warren, PA, he was the son of Lester Nero, Sr. and Thelma Tingwall Nero. He was a veteran of the U.S. Navy serving on the USS Neptune in Norfolk, VA. He was a 1955 alumnus of Warren High School and attended and received degrees from Beloit College in Wisconsin, University of Massachusetts, and Penn State Harrisburg. He resided most of his life in Painesville, Ohio where he was City Manager for over 25 years. After retirement he moved back to the Jamestown area.
Lester "Boozy" Nero was an avid Steelers, Pirates, and Penn State fan.
He is survived by a sister, Linda Snyder of Warren, PA, and numerous nieces and nephews.
He was preceded in death by his parents, Lester Nero, Sr. and Thelma Nero Haag, his devoted loving wife, Joanne Rosell Nero, whom he married October 24, 1964 in Jamestown, NY. He was also preceded in death by his two sisters, Geraldine Nero Logan and Jeannette Nero Rulander; and a brother, Paul Nero.
Friends may call at the Donald E. Lewis Funeral Home, Inc., 304 East Street, Warren, PA, on Thursday, September 1, 2016 from 1-2PM at which time funeral and committal services will be held with Rev. Jeff Ewing, Pastor of First Lutheran Church, Warren, PA, officiating. Interment will follow in Lake View Cemetery, Jamestown, NY.
Memorials may be made to the Chautauqua County Humane Society, 2825 Strunk Road, Jamestown, NY 14701. E-mail condolences may be sent by visiting www.lewisfuneralhomeinc.com