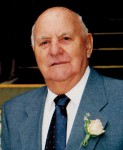 Lee W. Yaegle, 93, of Russell, PA, died Tuesday morning, January 12, 2016 at Golden Living-Kinzua after an extended illness. He was born September 22, 1922 in Russell, PA. Lee was the son of Frank and Anna Carlson Yaegle. He was a self-employed contractor, building several homes (40), retiring after 40 years employment. He was a member of Russell United Methodist Church, was a former Sunday School Teacher, member of the Good Samaritan Group and took part in various church activities. He was an avid hunter, especially enjoyed hunting deer.
Lee was a veteran of the U.S. Navy as a coxswain during World War II.
He is survived by his wife of 65 years, Jean Ryberg Yaegle whom he married June 3, 1950 in Warren, PA.
3 Children – Bonnie Duich and Don of Rockford, IL., Becky Carlson and husband, Kihm, Ben Yaegle and wife, Sarah all of Russell, PA., 1 Nephew – Willis Yaegle of Warren, PA., 6 Grandchildren – Lisa Miller, Dan Duich, Angie Ecklund, Andrew, Alex and Adam Yaegle, 3 Great Grandchildren – Edie Carlson, Ashlee McClure, Tyler Watson.
In addition to his parents, he was preceded in death by 2 Brothers – Howard and Warren Yaegle, 2 Sisters – Marie Johnson and Jane Hildum.
Friends may call at Russell United Methodist Church on Friday, January 15, 2016 from 1:00 P.M. until 2:00 P.M. at which time a funeral and committal service will be conducted by Rev. David Heckman, Pastor, officiating. Interment will be in Pine Grove Cemetery, Russell, PA. Those wishing to place a memorial may do so through Russell United Methodist Church, 17 N. Main Street, PO Box 28, Russell, Pennsylvania 16345. The Donald E. Lewis Funeral Home, Inc. has been entrusted with funeral arrangements. E-mail condolences may be sent by visiting www.lewisfuneralhomeinc.com