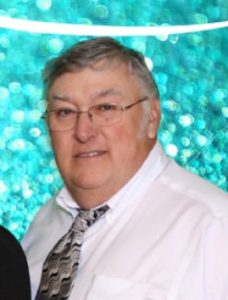 LaVern E. "Vern" Couse, 64, of Lander, PA., died Monday afternoon, January 21, 2019 at Warren General Hospital Emergency Room after suffering an apparent heart attack.  He was born May 18, 1954 in Jamestown, N.Y.  Vern was a Lander, PA., resident most of his life and a 1973 graduate of Eisenhower High School.  He was employed with the former National Forge Company as a boring foreman, retiring due to illness in 2002, after 32 years employment.  He had served as a past Assistant Chief of the Lander Volunteer Fire Department.  He was a member of the Pinegrove Sportsman's Club.  Vern was an avid hunter and fisherman.  His greatest joy in life was being a Papa to his grandchildren and numerous others.
Vern is survived by his wife of 45 years, Sonja Dyke Couse whom he married October 20, 1973 in Russell, PA., his mother, Marjorie Emerson Couse Larson of Warren, PA., 2 Sons – Jason L. Couse and wife, Christina of Ocean View, N.J., Justin M. Couse and wife, Cheyelle of Girard, PA., 1 Daughter – Shelly Darts and husband, Bob of Russell, PA., 3 Sisters – Maryetta Taylor and husband, Dan, Eva Alexander and husband, Terry, Debbie Blum.
10 Grandchildren – Garrett, Sierra, Justin "JJ" Darts, Owen, Lincoln, Elliette, Ryan, Jacie, Danika and Megan Couse.
Sister-in-law, Lona Lindvay and husband, Micheal of Warren, PA., 3 Brother-in-laws, Richard C. Dyke and wife, Ebeth of Russell, PA., Phillip L. Dyke and wife, Diane of Warren, PA., Terry L. Dyke of Seattle, WA., several nieces and nephews, his beloved and loyal dog, Buddy.
He was preceded in death by his father, William Couse, stepfather – Eric Larson, 1 Brother – Clarence Couse, 1 Sister – Delora Colucci.
Friends may call at the Donald E. Lewis Funeral Home, Inc., 304 East Street, Warren, PA., on Friday, January 25, 2019 from 2 to 4 and 6 to 8 P.M. where a funeral service, will be conducted Saturday, January 26, 2019 at 11:00 A.M. with Rev. Todd Venman, Pastor of Wiltsie Community Church, officiating.  Interment will be in Pine Grove Cemetery, Russell, PA.  Those wishing to place memorials may do through Lander Volunteer Fire Department, 4400 Miller Hill Road, Russell, PA., 16345 or a charity of one's choice.  E-mail condolences may be submitted by visiting www.lewisfuneralhomeinc.com