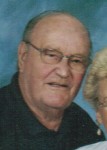 Larry Clark Larson, 90, died Tuesday morning, December 13, 2011 in the John and Orpha Blair Hospice Home. Born February 11, 1921 in Frederick, MD he was the son of the late Oscar and Blanche Miller Larson. The family moved to Jamestown, NY in 1928 and has resided there until moving to Warren PA in October 2011. He was a 1940 graduate of Jamestown High School and served in the U.S. Air Force as a 2nd Lieutenant in the 8th Air Force in the European Theatre stationed in London during WWII. Following his Air Force discharge he was employed for many years at Blackstone Manufacturing Co. He later worked at Marlin Rockwell Corp from which he retired in 1987. He was a member of Immanuel Lutheran Church and of the War Vets Assn. For over 25 years he enjoyed being a part of the Tuesday men's luncheon get together.
He is survived by his wife Ethylene Swanson Lindblad Larson, whom he married June 29, 1989. He is also survived by his daughter Patricia (Abe) Rosenberg of Jamestown, and a son, Timothy (Terri) Larson of Balston Spa, NY; three step children – Beth Konkus of Stuart, FL, Peter Lindblad of Jamestown, and Nancy Lindblad of Warren; nine grandchildren – Jessica (Matt) Harvey of Jamestown, Erin (Brad) Beckstrom of Frewsburg, NY, Mark (Rachel) Carraher of Jamestown, Emily Wood of Lancaster, PA, Katie Chapman of Groton, NY, Andrew Shodi of the USAF in NJ, Adrian Shodi of Warren and Pittsburgh and Christopher and Ryan Larson of Balston Spa; and several great grandchildren.
In addition to his parents, he was preceded in death by his first wife, Constance Foley Larson, whom he married in 1944 and died October 3, 1987; his daughter – Sharon Dorman in 2005; his brother, Robert in 1990; and an infant great grandson, Landyn Beckstrom.
A memorial service will be conducted at 1:00 pm Friday, December 16, 2011 at Immanuel Lutheran Church, 556 East Second St, Jamestown 14701 with Chaplain of Lutheran Social Services, Dan Rumfelt, officiating. Memorial contributions can be directed to American Diabetes Association, P.O. Box 11454, Alexandria, VA 22312. The Donald E. Lewis Funeral Home, Inc has been entrusted with arrangements. Online condolences may be offered at www.lewisfuenralhomeinc.com