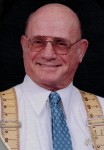 Kenneth "Sparky" Park, 86, of 20451 Powell Road, Lot 77,
Dunnellon, FL, formerly of Clarendon Heights and Scandia areas.
He was born April 30, 1928 in Warren,, PA. to the late Clifford L.
and Laura M. Reider Park. He has resided his winters in Florida
since December, 1992 and resided his summers at Hidden Valley
Campgrounds in Kiantone, N.Y. He was employed as a skidder
operator and truck driver with Richard Probst Logging for 20
years and was head of the maintenance department at Hidden
Valley Campgrounds for 14 years, retiring in 1999. He was a
former member of the Stoneham United Methodist Church and
currently a member of First United Methodist Church in
Dunnellon, FL. and attended Wiltsie Community Church. He
was an avid woodworker and enjoyed golfing. Sparky was a
veteran with the U.S. Marine Corp. during World War II. A
member of the Apple Siders and Circle 8 Square Dance Clubs for
many years.
He is survived by his wife of 64 years, Helen M. Wiltsie Park
whom he married August 27, 1950 in Fentonville, N.Y., 3 children
– Joyce Hennessy and husband, Robert of Clarendon, PA.,
Richard Park of Youngsville, PA., Lois Chido and husband,
David of Tiona, PA., 2 Sisters – Jean Johnson of Tiona, PA.,
Winifred Kilby of St. Petersburg, FL., 1 Brother – C. Terry Park
and wife, Barbara of Marble, N.C., 1 Brother-in-law, William
Cummings of Warren, PA., 5 Grandchildren – William
Frederoski, Warren, PA., Stacey Frederoski, Spring Creek, PA.,
Adam and Ashley Hennessy, Sheffield, PA., Matthew Hennessy,
Clarendon, PA., Laura Hennessy, Warren, PA., 6 Step
Grandchildren – Tim Chido, Warren, PA., Brian Ruhlman, Mich.,
Chad and Katrina Ruhlman, Bumus Point, N.Y., Jason and Sandy
Ruhlman, Frewsburg, N.Y., Bob Hennessy, Warren, PA., Dana
Hennessy, Clarendon, PA., 12 Great Grandchildren, several
nieces and nephews. In addition to his parents, he was preceded
in death by 1 Sister – Susan Cummings, Daughter-in-law, Becky
Park, 2 Brother-in-laws, James Kilby and Charles Johnson.
Friends may call at the Donald E. Lewis Funeral Home, Inc., 304
East Street, Warren, PA. on Friday, February 27, 2015
from 2 to 4 and 6 to 8 P.M.
A memorial service will be announced at a later date and time.
Interment will be in Warren County Memorial Park. Those
wishing to place memorials may do so through Wiltsie
Community Church or a charity of one's choice. E-mail
condolences may be sent by visiting