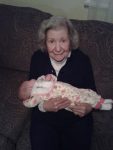 Katherine McGuckin Fazio, 93, of Blairsville, PA., and formerly of
Warren, PA., died Saturday, December 10, 2016 in Latrobe, PA.,
after suffering an apparent heart attack. She was born March 4,
1923 in Russell, PA. Katherine was the daughter of William and
Ester Perkins McGuckin. She was a longtime Russell and Warren
area resident, moving to Blairsville, PA., 8 years ago to live with
her daughter, Sally. She was a 1941 graduate of Russell High
School and was a drum majorette, and attended Jamestown
Business College. She had served during World War II, with the
U.S. Navy, as a Seaman 1st Class, stationed in Washington, D.C.
She was employed with the former Warren National Bank and
retired from the Warren County Board of Assistance office. She is
remembered with much love and devotion, for her being a
wonderful mother, who cared and lived for her children, making
clothing for them as kids, taking care of them when they were
sick and being their friend throughout their lives. She was an
avid baker and great cook.
She is survived by her two children – Sally Fazio of Blairsville,
PA., Dean J. Fazio of Warren, PA., 4 Grandchildren – Krystal
Nuhfer of Blairsville, PA., Lon Nuhfer of Shepherdstown, W.V.,
James and Joseph Fazio both of Warren, PA., 3 Great
Grandchildren – Harley Nuhfer, Gage Zimmers, Haleigh Fazio,
several nieces and nephews. In addition to her parents, she was
preceded in death by her husband of 31 years, Joseph A. Fazio
whom she married June 30, 1950 in Warren, PA., who died
January 6, 1982, 2 Brothers – William and James McGuckin.
Friends may call at the Donald E. Lewis Funeral Home, Inc., 304
East Street, Warren, PA., on Wednesday, December 14, 2016 from
11:00 A.M. until 1:00 P.M. when a funeral and committal service
will be conducted by her nephew, Deacon Joseph Lucia.
Interment will be in St. Joseph R.C. Cemetery. Full military
honors will be conducted at the funeral home following the
funeral service by members of the U.S. Navy and the
Clarendon/Sheffield V.F.W. Funeral Honor Guard. Those
wishing to place memorials may do so through the Northwestern
PA Chapter of Alzheimer's Association, 1600 Peninsula Drive,
Ste. 15, Erie, PA. 16505 or Paws Along the River, 212 Elm Street,
Warren, PA., 16365. E-mail condolences may be sent by visiting