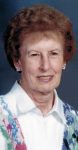 Julia "Judy" Connolly Ziki, 90, of N. Warren, PA, passed away Wednesday, January 31, 2018, at her home following a brief illness.
Born on August 20, 1927 in Warren, PA, she was the daughter of the late Michael and Anna Reinsel Connolly. Judy was a 1945 graduate of Warren High School and later graduated from secretarial school in East Orange, NJ. She worked in New York City for a short time and was employed with GTE Sylvania for over 40 years.
Judy enjoyed bridge, golf, square dancing, and playing cards with her friends. In her earlier years she enjoyed cross country skiing. She spent a great deal of her time in her flower gardens. She always loved her dogs, currently Sadie.
Judy is survived by five nieces – Cindy (Steve) Rock, and Kathy (Bob) Teconchuk, both of Erie, PA, Suzie (Al) Sillato of Lancaster, NY, Mickie (Tim) Ressler of N. Warren, PA, and Amy (Jim) Swanson of Warren, PA. She is also survived by one nephew, Thomas (Barbara) Burns of New Jersey. In addition to her parents, Judy was preceded in death by her beloved husband, George Ziki, whom she married on June 11, 1976, and who died on October 4, 2011; her sister, Geneva Strittmatter, her brother James Connolly, and nephew, James Connolly.
Friends may call at St. Joseph R.C. Church, 600 Pennsylvania Avenue West, Warren, PA, on Saturday, February 3, 2018, from 10:00am until 11:00am at which time a Mass of Christian Burial will be conducted by Fr. Richard Tomasone. Entombment will be in the Mausoleum of the Ascension at St. Joseph R.C. Cemetery. Those wishing to place a memorial may do so to St. Joseph R.C. Church Educational Center Fund, or to Hospice of Warren County, 1 Main Avenue, Warren, PA, 16365. Arrangements have been entrusted to the Donald E. Lewis Funeral Home, Inc., 304 East Street, Warren, PA. E-mail condolences may be sent by visiting www.lewisfuneralhomeinc.com