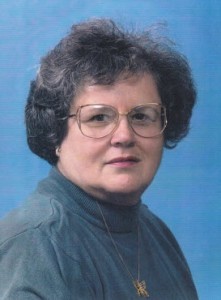 Joyce Evelyn Crooks, 75, went to be with her Lord and Savior on April 4th, 2012. She fought an undaunted but lengthening battle following open-heart surgery in late February. She was called home when it was clear that she could never again be her vibrant self here on Earth.
Joyce was born on February 20th, 1937 in Kane, PA to the late Gordon and Elizabeth Johnson. She was a 1955 graduate of Kane High School and worked for many years at the New Process Company (Blair.) She stayed at home for a while raising children and helping her husband with an upholstery side business. She then helped brighten many lives as "the flower lady" at Thorne's – earning a modest paycheck as a bonus. An avid and generally unbeatable Scrabble player, she loved going to "the music" every Sunday evening in Pleasant Township and cherished her times with friends at countless bluegrass festivals, square dances and other outings where people enjoyed laughter. She will be remembered for telling people exactly how she was thinking yet always thinking that people knew as much anyway. She knitted and crocheted, loved butterflies, dogwood trees and forsythia bushes.
She was predeceased by her husband, Richard Crooks in 1990 and her widower companion later in life, Anthony Noker Jr. in 2007. She is survived by her adopted son, Steve Crooks of Hillsborough, NC; a daughter, Lois Ann Davis of Lower Burrell, PA and a daughter, Jennifer Blackwood of Lynnwood, WA. Her surviving grandchildren are – in order of how each was born and raised to fill her heart with enormous pride; Richelle (Shelli) Blackwood, Nathan Crooks, Denae Davis, Brianna Blackwood and Mackenzie Crooks. Also surviving are younger brothers Bruce Johnson of Northumberland, PA, Kenny Johnson of Greenville, PA and Clair Johnson of Buffalo, NY. Several nieces and nephews and too many friends to count will also miss her dearly.
Family will receive friends Monday, April 9, 2012 from 1 to 3 and 5 to 7 P.M., at the Donald E. Lewis Funeral Home, Inc., 304 East Street, Warren, PA. where a funeral and committal service will be conducted Monday at 7:00 P.M. with Rev. Donald Wells, officiating. Burial will be in the Warren County Memorial Park. Flowers with forsythia blooms most appreciated or memorials made to the American Heart Association or American Diabetes Society. Online condolences may be offered to the family at www.lewisfuneralhomeinc.com