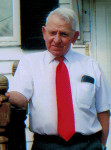 Joseph "Joe" P. Tutmaher, 91, of Chandler's Valley, PA., died Thursday morning, February 18, 2016 at the Rouse Warren County Home, Youngsville, PA. He was born May 22, 1924 in Royal, Susquehanna Co., PA. He was the son of Andrew and Ann
Marchin Tutmaher, Sr. Joe has resided in Chandler's Valley, PA., since the age of 7 and had worked the family farm. Joe had served during World War II, with the U.S. Army, as a Staff Sergeant from November 23, 1943 until November 11, 1946. He served with the 1st Division, 8th Calvary, and was stationed at Camp Blanding, FL., Fort Ord, CA., Leyte & Luzon in Philippine Islands, and Tokyo, Japan. He was a superintendent/foreman with Blackstone of Jamestown, N.Y., retiring from there in the late 1970's after many years employment. He was also employed with Warren Tire Center and Jones Chevrolet.
He was a member of the Warren Knights of Columbus, Lakewood Rod & Gun Club and served as former chief of the Sugar Grove Volunteer Fire Department. He was an avid hunter, loved working on automobiles, helping others and had a great sense of humor.
Joe is survived by his wife of 67 years, Elaine Henning Tutmaher whom he married September 4, 1948 in Warren, PA. 2 Children – Larry Tutmaher and wife, Cheri of Warren, PA., Lori Gustafson and husband, Scott of Youngsville, PA., 1 Brother – Paul Tutmaher of Sugar Grove, PA., 1 Sister – Sophie Bosko and husband, Andy of Lakeland, FL., 3 Grandchildren – Jennifer Gullotti and husband, Chad of Jamestown, N.Y., Jordan Tutmaher and Katie Gustafson both of Youngsville, PA., 2 Great Grandchildren – Trent and Nolan Gullotti of Jamestown, NY, several nieces and nephews.
In addition to his parents, he was preceded in death by 2 Sisters – Mary Glotz, Ann Bobelak Slack, 2 Brothers – John and Andrew Tutmaher, Jr.
Friends may call at the Donald E. Lewis Funeral Home, Inc., 304 East Street, Warren, PA., on Monday, February 22, 2016 from 10:00 to 11:00 A.M., followed by a funeral and committal service by Rev. Marcus Briggs, Chaplain of the Rouse Warren County Home, officiating. Full military honors will be conducted there by members of the Sheffield/Clarendon V.F.W. Honor Guard and the U.S. Army personnel. Interment will be in Mission Covenant Cemetery. Those wishing to place memorials may do so through a charity of one's choice. E-mail condolences may be sent by visiting www.lewisfuneralhomeinc.com