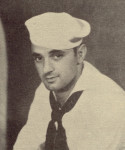 Joseph J. Suppa, 97, of Irvine, PA., died Friday evening, February
12, 2016 at Rouse Warren County Home after a brief illness. He
was born May 12, 1918 in Irvine, PA., Son of the late Frank and
Victoria Randinelli Suppa. Joe was a longtime resident of Irvine
and formerly of Warren, PA. He was a 1938 graduate of Warren
High School and attended the former Hoff Business College. Joe
was a veteran of the Second World War serving with the U.S.
Navy as a Machinist Mate 3rd Class. He was owner and operator
of the former Suppa Motor Sales of Irvine for 37 years, retiring in
1973. He drove school bus for Warren County School District for
43 years. He was a member of St. Luke's R.C. Church and a
church usher. Joe enjoyed golfing, bowling, gardening, watching
golf and baseball on television. He loved spending time with his
family and was a devoted husband, father, grandfather and uncle.
He is survived by 2 daughters – Victoria Kuzminski of Irvine,
PA., Sandra Malchow of Hamburg, N.Y., 1 Brother – Ralph and
wife Bonita of Irvine, PA., sister-in-law, Frances Suppa of Warren,
PA., 5 Grandchildren – Rebecca and Bernard McConaghy, Renee
and Thomas Koller, Matthew Kuzminski, 1 Great Grandson –
Maxwell Koller, several nieces and nephews. In addition to his
parents, he was preceded in death by his wife of 62 years,
Eleanora Pulli Suppa whom he married July 12, 1947 in
Clarendon, PA., who died December 12, 2009, 4 Brothers – John,
Jim, Frank, Dominic Suppa, 3 Sisters – Rose Work, Isabel Lucia,
Elizabeth LeTrent.
Friends may call at the Donald E. Lewis Funeral Home, Inc., 304
East Street, Warren, PA., on Thursday, February 18, 2016
from 6 to 8 P.M., where a vigil service will be conducted at 5:45
P.M. by Deacon Joseph Lucia. A Mass of Christian Burial will be
conducted at St. Luke's R.C. Church, 420 N. Main St.,
Youngsville, PA., on Friday, February 19, 2016 at 11:00 A.M., Fr.
John R. Neff, Pastor, officiating. Interment will be in St. Joseph
R.C. Cemetery. Those wishing to place memorials may do so
through Rouse Warren County Home, designated for the
Alzheimer's Unit, 701 Rouse Avenue, Youngsville, PA. 16371.
E-mail condolences may be sent by visiting