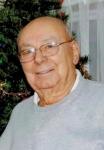 Joseph A. Gabriel, 84, of North Warren, PA, died Sunday morning, November 2, 2014 at the John and Orpha Blair Hospice Home after an illness of the past year. He was born March 13, 1930 in Niagara Falls, N.Y.
He was the son of the late Antonio and Concetta Donatelli Gabriele. Joe was a graduate of Niagara Falls High School and attended the University of Buffalo. He was employed with the former National Forge Company as an Electronic Data Processing Manager retiring in 1995 after 28 years employment. He volunteered at St. Joseph Church Elementary School in their computer laboratory. He was a member of St. Antony of Padua R.C. Church, the Warren Knights of Columbus, Warren Elks Lodge. Joe was an avid golfer and former member of the Conewango Valley Country Club. He had served with the U.S. Navy as a Seaman First Class during the Korean War.
He is survived by his wife of 51 years, June R. Teufel Gabriel, whom he married May 25, 1963 at the Infant of Prague R.C. Church in Cheektowaga, N.Y., 4 Children – Dr. Anthony "T.J." Gabriel, PhD and wife, Terri of Gainesville, GA., Maria Mandis and husband, Michael of Southern Shores, N.C., Melinda "Mindy" Simmons and husband, David of Charleston, W.V., Gina Burke and husband, David of Huntersville, N.C., 1 Brother – Thomas C. Gabriele of Fairport, N.C., 10 Grandchildren and several nieces and nephews. In addition to his parents, he was preceded in death by 1 Brother – Pat Gabriele. Friends may call at the Donald E. Lewis Funeral Home, Inc., 304 East Street, Warren, PA on Wednesday, November 5, 2014 from 2 to 4 and 6 to 8 P.M. where a vigil service will be conducted at 7:30 P.M. Members of the Warren Elks Lodge will conduct their funeral ritual at 6:00 P.M. Wednesday.
A Mass of Christian Burial will be conducted on Thursday, November 6, 2014 at 11:00 A.M. at St. Anthony of Padua R.C. Church, Saybrook, PA., Fr. John Neff, Pastor, officiating. Entombment will be in the Mausoleum of the Resurrection in St. Joseph R.C. Cemetery. Those wishing to place memorials may do so through Hospice of Warren County, 1 Main Street, Warren, PA., St. Anthony of Padua R.C. Church, P.O. Box 518, Sheffield, PA 16347-0518, Warren Cancer Center, 2 Crescent Park, Warren, PA 16365 or the St. Joseph School, 600 Pennsylvania Avenue West, Warren, PA. 16365. Those wishing to submit e-mail condolences may do so by visiting www.lewisfuneralhomeinc.com