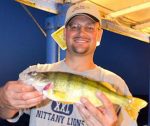 Jory J. Giger, 30, of Warren, PA, died Monday, October 24, 2016 at his home.
Born on September 30, 1986 in Pittsburgh, PA, he was the son of Tim and Lynne Wenger Giger.
Jory was a graduate of Mars Area High School and later received his Bachelor's Degree from Penn State. He was employed as a weekend supervisor with Summit Academy in Butler, PA. He was a member of the Wild Turkey Federation. Jory loved to play sports, especially softball and soccer, and enjoyed hunting and fishing. He loved his kids and was a great Dad!
Jory is survived by his wife, Kristen Schnepp Giger of Warren, PA, his two children – Jennifer and Timothy, his mother – Lynne Giger of Conway, PA, his father – Tim Giger of Valencia, PA, his maternal grandparents – Richard and Patricia Wenger of McKean, PA, his paternal grandparents – Ed and Joan Giger of Allison Park, PA, 1 brother – Logan Giger and his wife, Kathleen Cargill, of Washington, D.C., 2 sisters – Chandra Yeschenko and her husband, Brian, of Texas, Kaylee Barton and her husband, Will, of State College, PA, and several nieces and nephews.
Friends may call at the Donald E. Lewis Funeral Home, Inc., 304 East Street, Warren, PA, on Friday, October 28, 2016 from 4PM – 7PM. A Mass of Christian Burial will be conducted at 11:00 A.M. Saturday at St. Joseph R.C. Church, 600 Pennsylvania Avenue West, Warren, PA, with Fr. Richard J. Toohey, Pastor, officiating. Interment will be at the convenience of the family. In lieu of flowers, those wishing to place a memorial may do so through Beacon Light for the Let's Talk About It Warren County in memory of Jory Giger or to the Warren County YMCA. E-mail condolences may be sent by visiting www.lewisfuneralhomeinc.com