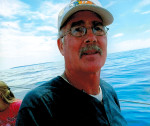 Jon K. Scott, 58, of Meadville, PA., and formerly of Warren, PA. died peacefully in his sleep Monday, November 2, 2015 at his residence. He was born November 1, 1957 to the late Clinton Rae and Lois Jean Wolf Scott. Jon was a resident of Meadville for the past 8 years, moving there from North Warren, PA., where he resided most of his life. He was a 1975 graduate of Warren Area High School and attended University of Pittsburgh-Bradford campus where he earned a degree in Petroleum Technology. He had served with the U.S. Army from March 14, 1979 until November 9, 1981, as a Specialist 5th Grade.
Jon was employed with Pennsylvania Department of Environmental Protection in Meadville, PA., and part time with Home Depot Store. He had previously worked with Range Resources in Cochranton, PA. He was a member of the North Warren Presbyterian Church and an active member with the church Boy Scout Troop 13. Jon was a longtime volunteer and served as Treasurer with the North Warren Volunteer Fire Department for over 30 years. He enjoyed being outdoors and is remembered for his great sense of humor.
He is survived by his wife of 34 years, Brenda Green Scott whom he married April 25, 1981 at North Warren Presbyterian Church, 3 Children – Cassandra R. Johnson and husband, Nicholas of Warren, PA., Megan Kupchella and husband, Sam of Pittsburgh, PA., Kevin Scott and wife, Lindsey of Meadville, PA., 1 Brother – Jeffrey R. Scott of Russell, PA., 1 Sister – Ellen Stace and husband, Garry of New Port News, VA., 3 Grandchildren – Loralei Johnson, Lucille Johnson, Quinn Kupchella, his mother-in-law, Agnes Green of Warren, PA., several nieces and nephews.
In addition to his parents, he was preceded in death by a granddaughter – Eleanor J. Johnson, father-in-law, Clarence Green.
Friends may call at the Donald E. Lewis Funeral Home, Inc., 304 East Street, Warren, PA., on Thursday, November 5, 2015 from 2 to 4 and 6 to 8 P.M.
A funeral service will be conducted Friday, November 6, 2015 at 11:00 A.M. at North Warren Presbyterian Church, 200 South State Street, Warren, PA., with Rev. Burfoot S. "Buddy" Ward,III, Senior Pastor, officiating. Interment will be in Stilson Hill Cemetery, Sugar Grove, PA. Those wishing to place memorials may do so through Stilson Hill Cemetery, Cassandra R. Johnson, Treasurer, 21 E. Third Avenue, Warren, PA., 16365 or Boy Scouts of America, Chief Cornplanter Council, 316 Fourth Avenue, Warren, PA. 16365 or North Warren Volunteer Fire Department, 12 South State Street, Warren, PA. 16365. E-mail condolences may be sent by visiting www.lewisfuneralhomeinc.com