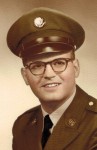 John Gagliardi, 76, of Warren, PA, passed away peacefully on Monday,
February 8, 2016, at Warren Manor in Warren, PA. Born on October 17,
1939 in Punxsutawney, PA, John was the son of the late Fred and Rose
Belott Gagliardi. He worked as a crane operator with National Forge,
retiring in 2001. He was a member of St. Joseph R.C. Church, Warren
Moose Lodge 109, and American Legion Post 135. John had served with the
U. S. Army. He enjoyed bowling, Indy car racing, and was an avid Boston
Red Sox fan and New England Patriots fan. In his younger days, he
enjoyed playing baseball and softball.
John is survived by his two sisters, Marlene A. Brasington and her
husband, Fred, and Carole A. Stewart and her husband, Allen, all of
Warren, PA, nieces and nephews – Christopher (Connie) Zaffino, Cathleen
Zaffino, Todd (Michele) Chiaravalloti, and Renee (Joshua) Anthony, all of
Warren, PA, Christina Cullen of Bristow, VA, Martin (Laura) Brasington of
Blacklick, OH, Jennifer (Richard) Anderson of Union City, PA, and Bethany
Chiaravalloti of Erie, PA, great nieces and nephews – Christopher Zaffino,
Jr., Brianna Zaffino, Spencer Zaffino, Dextri Zaffino, Jakobe Anthony,
Aydin Anthony, and Wyatt Chiaravalloti, all of Warren, PA, Riley Cullen,
Reanne Cullen and Raegan Cullen, all of Bristow, VA, two great-great-
nieces, Skyler Zaffino of Warren, PA and Lillianna Zaffino of Sheffield, PA,
and many cousins. In addition to his parents, John was preceded in death
by a sister, Mary Rose Zaffino.
Friends are invited to attend a Mass of Christian Burial to be conducted at
10:00 A.M. Thursday, February 11, 2016 at St. Joseph R.C. Church, 600
Pennsylvania Avenue West, Warren, PA, with Fr. Richard J. Toohey,
Pastor, officiating, assisted by Fr. James Gutting, Pastor of Holy Redeemer
R.C. Church. Entombment will be in the Mausoleum of the Ascension in St.
Joseph R.C. Cemetery. Full military honors will be conducted by members
of the Clarendon/Sheffield V.F.W. Honor Guard and U. S. Army
personnel. In lieu of flowers, those wishing to place a memorial may do so
through the American Heart Association, American Diabetes Association,
Greater Pittsburgh Chapter, 100 West Station Square Drive, Suite 1900,
Pittsburgh, PA 15219, or to the Warren Cancer Center, 2 Crescent Park,
Warren, PA 16365. Arrangements have been entrusted to the Donald E.
Lewis Funeral Home, Inc., 304 East Street, Warren, PA. E-mail condolences
may be sent by visiting www.lewisfuneralhomeinc.com