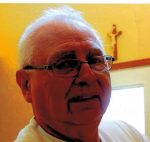 John F. Yencik, Sr., 75, passed away on Wednesday morning, February 7, 2018 after a long battle with cancer. He was born March 20, 1942 in Pittsburgh, PA., and was the son of the late John A. and Frances Arch Yencik. John was employed at Loranger Manufacturing Company, working in various positions within the company, retiring from there after 35 years employment. John was a member of the Warren Eagles Aerie and the Commodore Perry Yacht Club of Erie, PA. His passions were boating, hunting, fishing and watching NASCAR races on tv and the Pittsburgh Steelers. His favorite mode of transportation was riding his Harley. John rode it all over the United States during his vacations.
He was of the Catholic faith.
John is survived by his fiancée, Margaret Scharf of Westfield, New York, a son, John F. Yencik, Jr., of Hermitage, TN., a daughter, Linda Clinton (Brett) , a brother, James Yencik (Lorraine) all of Warren, PA., a sister, Mary Turner (Paul) of Pittsburgh, PA., grandson – Jake Yencik (Jennifer Dalton), great grandchildren – Luvinia and Theodore.
Friends may call on Saturday, February 10, 2018 at 10:00 A.M. until 11:00 A.M. at the Donald E. Lewis Funeral Home, Inc., 304 East Street, Warren, PA. A Memorial service will follow visitation hours at 11:00 A.M. Interment will be in Westfield Cemetery, Westfield, N.Y. Those wishing to place memorials may do so through the American Cancer Society. E-mail condolences may be sent by visiting www.lewisfuneralhomeinc..com