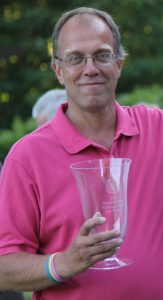 Jerry Nelson, 60, of Warren, PA., died peacefully Monday evening, September 3, 2018 at the John and Orpha Blair Hospice Home after a 12 ½ year battle with Multiple Myeloma.  He was born April 26, 1958 in Jamestown, N.Y. and was the son of the late Harvey Leroy and Clara Rose Burke Nelson.  Jerry was a longtime Warren area resident.  He graduated in 1976 from Warren Area High School and earned his Bachelor's Degree in Economics in 1980 from Grove City College.  Jerry was employed with Betts Industries as a salesman for 19 years.  He was a member of the North Warren Presbyterian Church where he was a Past Ruling Elder.  He was a member of Blueberry Hill Golf Club and the Warren Elks Lodge.
Jerry enjoyed golfing, fishing and outings with his Grove City College friends, but especially enjoyed spending quality time with his grandchildren.
Jerry is survived by his wife of 35 years, Ellen Yucha Nelson whom he married at the Warren State Hospital Interfaith Chapel on August 27, 1983, 2 Children – Joseph Jerald Nelson and wife, Heather of Russell, PA., Emma Kathryn Jones and husband, Michael of Edinboro, PA., 2 Brothers – John K. Nelson and his companion, Yolanda Nelson of Enumclaw, WA., James H. Nelson and wife, Lois of Bridgewater, N.J., 2 Grandchildren – Madelyn Ruth Nelson and Daniel Jerald Jones, several nieces and nephews.
Friends may call at the Donald E. Lewis Funeral Home, Inc., 304 East Street, Warren, PA., on Thursday, September 6, 2018 from 1 to 3 and 6 to 8 P.M. A Memorial Service will be conducted Friday, September 7, 2018 at the North Warren Presbyterian Church, 200 S. State Street, Warren, PA at 11:00 A.M. with Rev. Burfoot "Buddy" Ward, Pastor, officiating.  In lieu of flowers, the family requests those wishing to place memorials may do so through the Erie Chapter of the Leukemia and Lymphoma Society, 210 W. 6th Street, Suite #1, Erie, PA., 16507 or Hospice of Warren County, earmarked for the John and Orpha Blair Hospice Home, 1 Main Street, Warren, PA. 16365.  E-mail condolences may be sent by visiting www.lewisfuneralhomeinc.com