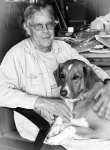 Jeffrey D. Werner, 70, of Warren, PA, passed away at his residence on November 13, 2017. Born on October 24, 1947 in Jamestown, NY, he was the son of the late Robert and Elizabeth Erickson Werner.
Jeff was a graduate of Warren Area High School and the General Motors Institute. He was a proud business owner in the Warren area for 40+ years. He enjoyed working on cars and watching Formula 1 races having traveled to Watkins Glen. He also liked going to car shows in Michigan. Jeff was a member of the Sigma Alpha Epsilon fraternity and always enjoyed his annual deer camp get-togethers with his college friends. He loved spending time with his grandkids and his loyal dog, Sadie.
Jeff is survived by his 2 sons – Kevin R. Werner and his wife, Erin, of Warren, PA, and Erik W. Werner and his wife, Erin, of Hornell, NY; 5 grandchildren – twins Kaden and Karson, Logan, Harrison, and Evelyn; 2 sisters – Betsy (Richard) Aeschliman of Atlanta, GA, and Wendy Hutchinson of Columbus, OH; 4 nieces – Claire, Katherin, Jenny and Karen; and great nieces and nephews.
Friends are invited to attend a celebration of Jeff's life to be held on Saturday, November 25, 2017, at Grace United Methodist Church, 501 Pennsylvania Avenue East, Warren, PA. Visitation will begin at 10:00 AM and a service to follow at 11:00 AM. Those attending are invited to a luncheon following the service. Those wishing to place a memorial may do so through Paws Along The River, 212 Elm Street, Warren, PA, 16365. Arrangements have been entrusted to the Donald E. Lewis Funeral Home, Inc., 304 East Street, Warren, PA. E-mail condolences may be sent by visiting www.lewisfuneralhomeinc.com