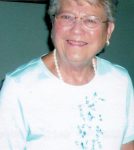 Jean J. Johnson, 91, of Tiona, PA, passed away Sunday, October 15, 2017, at the Kinzua Healthcare and Rehabilitation Center in Warren, PA.
Born on October 5, 1926 in Warren, PA, she was the daughter of the late Clifford and Laura Rieder Park.
Jean was formerly employed with GTE Sylvania and later with New Process Co. She was a longtime faithful and influential member of the Stoneham United Methodist Church where she had served as organist.
Jean enjoyed hunting, fishing, looking for deer in the evenings, loved the changing of the seasons, and loved her cats and dogs. She will be remembered as a special lady who was humorous, spry, had a quick wit and enjoyed doing things for other people.
Jean is survived by her companion of 11 years, Donald "Red" Silvis of Sheffield, PA; 1 brother – Terry (Barbara) Park of North Carolina; a sister-in-law – Helen Park of Florida, 2 brothers-in-law – Jerry (Carol) Johnson of N. Warren, PA, and William Cummings of Warren, PA, and several nieces and nephews, including Lois (Dave) Chido, Joyce (Robert) Hennessy, and Richard Park, all of Warren, PA; In addition to her parents, Jean was preceded in death by her husband, Charles Johnson, and 1 brother – Kenneth "Sparky" Park, and 2 sisters – Susan Cummings and Winnie Kilby.
There will be no formal service. Interment will be at the convenience of the family. Arrangements have been entrusted to the Donald E. Lewis Funeral Home, Inc., 304 East Street, Warren, PA. Those wishing to place a memorial may do so through the Stoneham United Methodist Church,
P. O. Box 140, Clarendon, PA, 16313. E-mail condolences may be sent by visiting www.lewisfuneralhomeinc.com