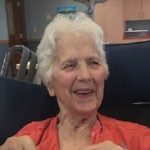 Janet A. Smith, 82, of Youngsville, PA, passed away peacefully on August 10, 2018, after a valiant battle against Parkinson's disease for more than 10 years.
Born Janet Pierson to the late Clyde and Ethel Pierson, she graduated from Youngsville High School in 1954. In the early 1960's, she was a pioneer of the women's movement, working outside the home to obtain advanced education, first as a psychiatric technician, then graduating from Jamestown Community College with its first nursing school class to be awarded R.N. degrees in 1965.
Janet served the Lord in a most excellent manner in her chosen career as psychiatric nurse, being employed at Warren State Hospital for more than 25 years until her retirement in 1998. She was an avid student of the Bible and she loved playing Scrabble and Words with Friends, often with Rouse Home staff. Janet was outgoing in her ministry to family and friends in need throughout her life.
Janet's older brothers Reid Pierson and wife Lois, and George "Milt" Pierson and wife, Marily, and her brother-in-law David Boughton, preceded her in death.
Janet is survived by her loving husband of 64 years, Martin D. Smith. She is also survived by her sister Anita Boughton of Ellington, New York and her brother, Neil Pierson and sister-in-law Liz of Youngsville, Pa., as well as sister-in-law Anna "Nancy" Johnson of Warren.
In addition, Janet is survived by her daughter, Donna Smith Cude of Kimberly, Alabama, husband Duane, and their son Christopher, as well as her son Gaillard Smith and wife Carolyn of Camas, Washington, and their four children, Jordan, Carrie (and husband Kyle) Macklem, Lucas and Jared, and her great-grandchildren, Elliott, Zoe and Amelia Macklem.
She is also survived by her daughter, Marilee Hazeltine, husband Troy, and their four children, Paul Armes (and wife Shanise), Andrew Armes, Alisen Hazeltine and Cyrus Hazeltine. She is also survived by many loving nieces, nephews and cousins.
The family is grateful for the excellent care Janet received at the Rouse Home from diligent nursing staff and nursing assistants, and from the workers at the Suites, while she resided there for a period of time, for all of whom she was very fond.
Friends may call at the Donald E. Lewis Funeral Home, Inc., 304 East Street, Warren, PA., on Wednesday, August 15, 2018 from 6 to 8 P.M. where a funeral service will be conducted Thursday, August 16, 2018 at 11:00 A.M. with Rev. Marcus Briggs, Chaplain of the Rouse Warren County Home and Rev. Dorothy Hilliard, Pastor of Faith Fellowship Church of God, co-officiating. Interment will be in Warren County Memorial Park.
In lieu of flowers, the family urges that donations be made in her name to the Rouse Home.