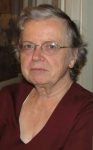 Janet B. Abbott, 81, of Lander, PA., died Tuesday, October 11,
2016 at her home, peacefully with her husband at her side. She
was born July 14, 1935 in Warren, PA. Janet was the daughter of
the late Wendell and Edna Dudgeon Burgett. She resided most of
her entire life in Lander, PA., and was a graduate of Sugar Grove
High School. Janet was a former member of the Warren Public
Library Association Board of Directors, she also served as
Secretary/Treasurer of Warren County Republican Committee.
She was an active participant and attendee of Warren County
School District meetings, where she often supported both sides of
the fence.
Janet enjoyed numerous trips to New England, where she loved
eating at lobster pots and many trips to the Finger Lakes and the
Outer Banks. She especially enjoyed her visits to Texas to see her
brother, Frank.
Janet also enjoyed her deep sea fishing trips. She was an avid
cook and baker, many people loved her bread. Janet was an
accomplished crossword puzzler, especially completing the New
York Times Crossword puzzle in ink. Most of all she always put
her family first, especially her children. She is remembered as a
wonderful wife, mother and grandmother. All who knew her
will miss her.
Janet is survived by her husband of 61 years, John "Jack" Abbott
whom she married January 29, 1955 in Lander, PA., 4 Children –
Trudy A. Bull and husband, Rex of Lander, PA., Beth Miller and
husband, Joe of Bethel, N.C., Sean P. Abbott and wife, Kerry,
Chad B. Abbott and wife, Linda all of Lander, PA., 1 Brother –
Frank Burgett and wife, Dorothy of Pearland, TX., 5
Grandchildren, Christopher Lindell, Sarah Hacke, MaryAnne
Lindell, Garret and Logan Abbott, 2 Step Grandchildren, Amy
Johnson, and Joshua Tellman, 4 Great Grandchildren, 3 Step
Great Grandchildren, and several nieces and nephews.
A Memorial Service and Celebration of her Life, will be held at a
later time, date and place to be announced. Those wishing to
place memorials may do so through Warren Public Library
Association, 205 Market Street, Warren, PA., 16365 or Bridges of
the Rouse, 905 Fourth Ave., Warren, PA. 16365, or Alzheimer's
Association of Greater Pennsylvania, 1128 State Street, Erie, PA.,
16501, or a Charity of one's choice. E-mail condolences may be
sent by visiting www.lewisfuneralhomeinc.com The Donald E.
Lewis Funeral Home, Inc. has been entrusted with final
arrangements.