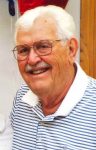 Jan F. Agnew, 77, of Warren, PA., died peacefully Monday afternoon, February 18, 2019 at Select Specialty Hospital, Erie, PA. after a brief illness. He was born October 3, 1941 in Garland, PA, to the late Rex M. and Clara Cochran Agnew. Jan was a Youngsville, Warren, PA., and Jamestown, N.Y resident.
He was a 1959 graduate of Youngsville High School.
He was employed for 33 years with Prudential Life Insurance as an agent and financial planner. While at Prudential in 1963, he was the first Million Dollar Producer in the Northeast area. He owned and operated Hidden Valley Campgrounds from 1983 to 2000. He was a former member of the Warren Lions Club, served as manager of a Little League team. He was a member of the Jamestown, N.Y. and Corry, PA. Coin Club. He enjoyed traveling, casino, being a collector and attending auctions. He was an active member with Covenant United Methodist Church, where he served as a trustee, a counter and served on numerous church committees.
He is survived by his loving wife, Cindi Ponsoll Agnew whom he married October 1, 1960 in Warren, PA., he was an amazing father to Jim Agnew and wife, Denise of Warren, PA., Julie Dalton and husband, Greg of Sheffield, PA., Sister-in-law, Judy D'Angelo of Jamestown, NY, grandson – Jaime Vizcanio-Bellod and his very special Granddog, Gator, several nieces and nephews.
In addition to his parents, he was preceded in death by an adopted brother, Donald Hanson.
Friends may call at the Donald E. Lewis Funeral Home, Inc., 304 East Street, Warren, PA. on Thursday, February 21, 2019 from 4 to 7 P.M. where a funeral service will be conducted Friday, February 22, 2019 at 11:00 A.M. with Rev. Ralph Culp, officiating. Interment will be in Oakland Cemetery. Those wishing to place memorials may do so through Paws Along the River, 212 Elm Street, Warren, PA. 16365 or Covenant United Methodist Church, 1624 Pennsylvania Avenue East, Warren, PA. 16365
E-mail condolences may be sent by visiting www.lewisfuneralhomeinc.com