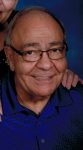 James W. Graziano, 79, of Warren, PA., died Wednesday
morning, March 15, 2017 at U.P.M.C. Hamot, after a brief illness.
He was born April 28, 1937 in Warren, PA., to the late Frank and
Josephine Scalise Graziano.
Jim was a Warren area resident most of his entire life and was a
1955 graduate of Warren High School. He attended Clarion
University, University of Buffalo, Edinboro State Teacher's
College, University of Pittsburgh and St. Bonaventure University.
He was employed as a 6th grade elementary school teacher at the
former North Warren Elementary School and was school
principal at McClintock, Jefferson, Home Street, North Warren
and Russell Elementary Schools, retiring in 1993.
Jim was a member of St. Joseph R.C. Church, Warren Knights of
Columbus and a former member of their Bowling League, Warren
County Historical Society and Alpha Gamma Phi Fraternity. He
had served as former Treasurer for 15 years with PASR and
served on the Executive Board of PAESP. He was an avid bowler,
golfer, reader, music lover and Notre Dame University sport's
fan. Jim enjoyed collecting memorabilia of Warren, PA. He was a
man with a great sense of humor, great love and devotion to his
wife, children and grandchildren, and loved people.
He is survived by his wife of 57 years, Janice "Jan" Brazer
Graziano whom he married August 29, 1959 in Warren, PA., 4
Sons – James J. Graziano and wife, Cindy of Pennsville, N.J.,
Joseph M. Graziano and wife, Lisa of Denver, CO., John G.
Graziano of Warren, PA., Jerold A. Graziano and wife, Tracy of
Olney, MD., 1 Sister – Joann Anderson of Warren, PA., 3
Grandchildren – Kaitlyn Rose, Joseph Anthony and Anna Rose
Graziano, several nieces and nephews.
Friends may call at the Donald E. Lewis Funeral Home, Inc., 304
East Street, Warren, PA., on Sunday, March 19, 2017 from 2 to 4
and 6 to 8 P.M. where a vigil service will be conducted at 1:45
P.M. A Mass of Christian Burial will be conducted Monday,
March 20, 2017 at St. Joseph R.C. Church, 600 Pennsylvania
Avenue West, Warren, PA., at 10:00 A.M. with Fr. Richard
Tomasone, Pastor, officiating. Entombment will be in the
Mausoleum of the Resurrection in St. Joseph R.C. Cemetery.
Those wishing to place memorials may do so through Warren
County Historical Society, 201 Fourth Avenue, Warren, PA.,
16365 or St. Joseph Church Educational Center Fund, 600
Pennsylvania Avenue West, Warren, PA. 16365. E-mail
condolences may be sent by visiting