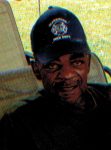 James T. Cooke, 74, of Clarendon, PA, died on Tuesday, February 13, 2018, at Warren General Hospital, Warren, PA, following a lengthy illness.
Born on June 2, 1943 in Mountain Ash, KY, he was the son of the late George and Clara Sharp Cooke. James retired from the maintenance department at Warren State Hospital. He was a volunteer fireman for several fire departments in Warren County, including Wrightsville, Youngsville, and Clarendon. He enjoyed fishing and hunting and playing pool. James had a personality that always spread happiness to whomever he met.
James is survived by his children – Jordan, Amber, Dante, DeeDee, and James, Jr. He is also survived by his sisters Ethel and Lilly. In addition to his parents, James was preceded in death by his brother, Joe.
Friends are invited to attend a funeral service to be held at 2:00 P.M. Friday, February 16, 2018, at Warren County Memorial Park with Rev. Martin Reynolds, Pastor of the Clarendon Trinity United Methodist Church, officiating. Arrangements have been entrusted to the Donald E. Lewis Funeral Home, Inc., 304 East Street, Warren, PA. Email condolences may be sent by visiting www.lewisfuneralhomeinc.com