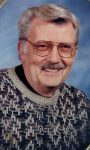 James "Jim" Pearson, 87, of Warren, PA, died Wednesday, April 12, 2017, at the John and Orpha Blair Hospice Residence in Warren after an extended illness. He was born April 15, 1929 in Kane, PA. He was the son of the late Werner H. and Edith L. Hedlund Pearson. Jim was a longtime Kane, Pa. resident and has resided in Warren since 1993 and was formerly of Youngsville, PA. He was a 1947 graduate of Kane High School and was employed by Kane Bank and Trust Co., Hamlin Bank, Warren National Bank, Marine Bank and retired as Vice President from P.N.C. Bank in 1989. He was a member of First Lutheran Church, Warren, PA, and a former member of Tabor Lutheran Church of Kane, PA, and Saron Lutheran Church of Youngsville, PA, where he had served on the churches councils and as their treasurer. He had served as a School Board Member with the Warren and McKean County School Districts. He was a life member of the Warren Elks Lodge. He enjoyed spending time at his camp in Kane, PA, for 48 years and was an avid fisherman.
He is survived by his wife of 66 years, Demeyer Tengstrand Pearson whom he married September 9, 1950 at Tabor Lutheran Church, Kane, PA., 5 Children – Linda Eberl and husband, Mark of Warren, PA., Jim Pearson and wife, Denise of Russell, PA., Diane Danielson and husband, Rodger of Palmerton, PA., Joanne Pearson of Pittsfield, Mass., Lisa Johnson and husband, Colin of Jamestown, N.Y., 3 Siblings – Bill Pearson and wife, Dorothy of Warren, PA., David A. Pearson and wife, Constance of Lancaster, PA., Karin M. Cook of Wilmington, N.C., 11 Grandchildren, 5 Great Grandchildren and several nieces and nephews. Friends may call at the First Lutheran Church, 109 W. Third Avenue, Warren, PA, on Monday, April 24, 2017 from 10:00 to 11:00 A.M.
A Memorial Service will be conducted there at 11:00 A.M. with Rev. Jeffrey Ewing, Pastor, officiating. Private interment will be in Tabor Cemetery, Kane, PA, at a later date. Those wishing to place memorials may do so through the First Lutheran Church.
E-mail condolences may be sent by visiting www.lewisfuneralhomeinc.com The Donald E. Lewis Funeral Home, Inc. has been entrusted with funeral arrangements.