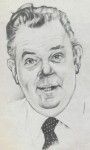 Jack Handkammer, 77, of Ashville, N.Y. and formerly of Warren, PA. died Wednesday, February 11, 2015 at Heritage Park, Jamestown, N.Y. He was born May 9, 1937 in Brooklyn, N.Y.
He was the son of Jacob Adam and Louise Kundel Handkammer.
Jack had formerly lived in Long Island, N.Y. and was a 1954 graduate of Thomas Edison High School. He had served with the U.S. Army as a Private, during the Cold War where he protected the Ajax Missile's and Nike Missile Silos. He earned his associate degree in art from the Pratt Institute of New York City. He was employed as Director of Advertising with Blair Corporation for 23 years retiring from there in 1995. He was a former member of St. Joseph R.C. Church, where he served as a Eucharistic Minister and Past President of their pastoral council and a member of St. Mary of Lourdes R.C. Church of Bemus Point, N.Y.
He was an active member of the Warren Y.M.C.A. , Head Official of the Swim Team Program, Knights of Columbus, American Legion Post 135. He was a volunteer with the Soup Kitchen and at St. Susan Center.
He is survived by his wife of 50 years, Judith "Judy" Fries Handkammer whom he married in 1964 at Jamaica, N.Y. of Ashville, N.Y., 4 Children – Amy Henderson and husband, Shawn of Stroudsburg, PA., Robert Handkammer and wife, Marceil of Charlotte, N.C., Alison Cushing and husband, Thomas of Bath, PA., Kristin Nivens and husband, Heath of Jacksonville, FL., 6 grandchildren, several nieces and nephews.
In addition to his parents, he was preceded in death by 2 Sisters – Doris Knoll and Ellie Mueller.
Friends may call at the Donald E. Lewis Funeral Home, Inc., 304 East Street, Warren, PA. on Friday, February 13, 2015 from 2 to 4 and 6 to 8 P.M. where a vigil service will be conducted at 1:30 P.M. by Deacon Joseph Lucia.
A Mass of Christian Burial will be conducted at St. Mary of Lourdes R.C. Church, Bemus Point, N.Y. on Saturday, February 14, 2015 at 11:00 A.M. with Fr. Todd Remick, Pastor, officiating. Those wishing to place memorials may do so through Hospice Chautauqua Co., Inc., 20 W. Fairmount Ave., Jamestown, New York 14701.
E-mail condolences may be sent by visiting www.lewisfuneralhomeinc.com