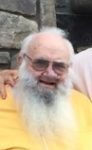 Isaac "Ike" Borland, Sr., 88, of Warren, PA., died peacefully
Thursday morning, January 25, 2018 at St. Vincent Allegheny
Health Network, Erie, PA. He was born February 18, 1929 in
Warren, PA., to the late Samuel and Lottie Schoebey Borland.
Ike was a lifelong Warren resident and employed for 35 years,
with the Warren State Hospital, working in the maintenance and
grounds departments. He was a 20 year 4H leader. He was an
avid woodworker and enjoyed working in his shop. He especially
enjoyed attending Air Force Reunions.
He was a very proud and honored veteran, serving with the
Brown Shoe Air Force, as a Staff Sergeant, serving in Germany
during the Korean War.
Ike is survived by his wife of 64 years, Mary Ellen Louise Riche
Borland whom he married October 30, 1953 in Warren, PA., 6
Children – Isaac "Ike" Borland, Jr. and wife, Susan, Sam Borland
and wife, Chris all of Warren, PA., Vivian Sanford and husband,
Paul of Youngsville, PA., John Borland wife, Rebecca of Vale,
N.C., Richard M. Borland wife, Sandy of Tidioute, PA., Lottie
Wood and husband, Joseph of Franklin, Il., 17 Grandchildren, 16
Great Grandchildren, several nieces and nephews. In addition to
his parents, he was preceded in death by a twin daughter, Valerie
Borland, 1 Brother – Samuel Borland.
Friends may call at the Donald E. Lewis Funeral Home, Inc., 304
East Street, Warren, PA., on Wednesday, January 31, 2018 at 10:00
A.M. until 12:00 Noon when a funeral and committal service will
be conducted by Rev. Marcus Briggs, Chaplain of the Rouse
Warren County Home, officiating. Full military honors will
follow the funeral service by members of the Sheffield/Clarendon
V.F.W. Funeral Honor Guard and the U.S. Air Force. Interment
will be in Weiler Cemetery. Those wishing to place memorials
may do so through Disabled American Veterans 75 Warren
Company, 116 Redwood Street, Warren, PA. 16365. E-mail
condolences may be sent by visiting