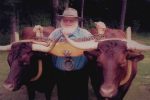 Howard W. "Ox Man" VanOrd, 82, of Russell, PA., died after an extended illness, peacefully surrounded by his family, Saturday morning, October 20, 2018 at the Rouse Warren County Home, Youngsville, PA. He was born October 17, 1936 in Russell, PA., to the late Lewis and Eleanor Mae Wilbur VanOrd, Jr. Howie was a lifelong Lander-Russell, PA., area resident. He was a 1954 graduate of Northern Area High School and attended Behrend College, Erie, PA. He was employed with the former National Forge Company as a press smith retiring in 1986 after 25 years employment. Howie's love was raising Oxen, which he did for 60 years. He was a 4-H Leader for 30 years and served on the 4-H Development Council for many years. He was in charge of the only Oxen Chapter in the state of Pennsylvania. Howie was in charge of the Oxen Barn for 30 years, during the Warren County Fair. He was a founding member and former President of the Midwestern Ox Drovers Association. He made thousands of Ox Yokes throughout the United States and Canada.
Howie was also a member of the Kinzua Modeler Airplane Club.
He was a true family man, enjoyed helping and working with anything to do with kids, and with working cattle. He was a history buff and remembered for always taking care of his wife, family and anybody who needed help.
Howard is survived by his wife of 58 years, Elizabeth A. "Betty Ann" Huckabone VanOrd whom he married June 11, 1960 at the Lander United Methodist Church, 4 Children – Jessica VanOrd of Cambodia, Dana Kozlowski of Randolph, N.Y., Connie Todryk and husband, Mike of Eden Prairie, Minnesota, Andy VanOrd and wife, Kathy of Russell, PA., 1 Brother – Ronald VanOrd and wife, Jan of Westfield, N.Y., 2 Sisters – Virginia Kiffer of Endeavor, PA., Cora Walter and husband, Frank of Vestal, N.Y., 6 Grandchildren, 2 Great Grandchildren, several nieces and nephews.
In addition to his parents, he was preceded in death by his daughter, Ronda Renee VanOrd, 2 Brothers – Lewis and Stewart VanOrd, 1 infant brother, Clair Allen VanOrd.
The family wants to publicly acknowledge and thank the loving and committed staff of the Rouse Warren County Home, whom took exceptional care of their dear husband, father and grandfather. <>
A private funeral service will be conducted at the convenience of the family. Interment will be in Pine Grove Cemetery, Russell, PA. Those wishing to place memorials may do so through Lander Volunteer Fire Department or Friends of the Rouse or Shriners Children's Hospital of Erie, PA. Those wishing to place e-mail condolences may do so by visiting www.lewisfuneralhomeinc.com The Donald E. Lewis Funeral Home, Inc. has been entrusted with funeral arrangements.