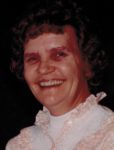 Helen L. Knisley, 81, of Warren, PA, passed away Friday, August 5, 2016 at St. Vincent Health Care Center in Erie, PA.
Helen was born on April 17, 1935 in Warren, PA, the daughter of the late Stephen and Gladys Thomas Chambers. She worked at Osram Sylvania for 33 years, retiring on May 20, 1999. She also worked as a housekeeper at Conewango Valley Country Club. Helen attended the Harbor Free Methodist Church in Warren. She was an avid Bingo player and bowler.
Helen is survived by 6 children – Suzanne (David) Zawacki, Mary (Kevin) Simmons, Judith (Jim) Crossley, Sandra (Daniel) Lewis, and Daisy (Dennis) Barnett, all of Warren, PA, and Wesley (Chris) Knisley of Sugar Grove, PA, 17 grandchildren, 12 Great-Grandchildren, 2 brothers – Richard (Vickie) Chambers of TN, and Donald (Helen) Chambers of Youngsville, PA, 2 sisters – Katherine Knisley of Youngsville, PA and Peggy Teconchuk of Warren, PA, and several nieces and nephews. Helen is also survived by her companion of 43 years, Wayne Bullock, of Warren, PA.
Friends may call at the Donald E. Lewis Funeral Home, Inc., 304 East Street, Warren, PA, on Monday, August 8, 2016 from 6-8PM. Funeral services will be held on Tuesday at Noon at the Harbor Free Methodist Church, 135 Conewango Avenue, Warren, PA, with Rev. Richard Sheriff, Pastor, officiating. Visitation will be held one hour prior to the service. Those wishing to place a memorial may do so to the Harbor Free Methodist Church. E-mail condolences may be sent by visiting www.lewisfuneralhomeinc.com