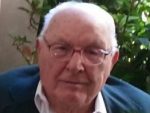 Heath L. "Hefty" Ferrie, 96, of Russell, PA., and a resident of the
Rouse Warren County Home, Youngsville, PA., died there
peacefully, Wednesday, November 16, 2016. He was born
October 3, 1920 in Warren, PA. Hefty was the last of 7 children,
of John William Heath and Anna Louise Fladry Ferrie.
Hefty attended Hatch Run Road School and graduated from
Warren High School Class of 1939. He entered the Army Air
Corps in August 29, 1942, stationed in Ft. Worth, TX, where he
was an airplane electrical mechanic for the B-24 Liberator.
Following military service he worked for several years on
different construction projects throughout the area, including the
construction of Eisenhower High School. He then accepted a
position as electrician at G.T.E. Sylvania, where he worked for 27
years. While there he earned the nick name "Ace" due to his
ability to be able to repair anything. In 1981, Sylvania awarded to
him the Morris Felton Lacroix Certificate for Meritorious Service.
He was a member of the Russell United Methodist Church for
over 60 years. He was a faithful member, who served as a trustee
for many years. He was proud when asked to chair two
remodeling projects, and building a new Sunday School building,
Wesley Hall, which today also serves as a daycare for the area
children and a meeting place for many groups. He currently
belongs to the Samuel Derby American Legion Post 556 in
Frewsburg, N.Y. He was a trustee of the Pine Grove Cemetery
Association for many years. He enjoyed being a member of the
Lakewood Rod & Gun Club, Pine Grove Lions Club, Retired
G.T.E. Sylvania Tuesday morning Peppermill Breakfast Group,
and meeting cousins & nephews Wednesday's for lunch at Burger
King, while health permitted active participation.
Heath enjoyed flower and vegetable gardening. The peak year,
he had a large vegetable garden, and 1700 mum plants, which he
sold at the Warren Farmers Market. As years passed, the gardens
were smaller but continued until he was 93 with a raised bed in
the back yard. While working on his family farm, they had a 1923
Fordson Tractor. He always longed to have one of his own in
later years. He and his son found one which they enjoyed pulling
at tractor pulls. It was recently fully restored to its original
condition by his son, Dean. Hefty saw it running in full
operation, on October 24, 2016.
He instilled in his children a love of God, family, Country and
nature. He went with his family to church each Sunday. The last
two weeks each July, Hefty and Myrt loaded their three kids in
the station wagon, packed the camper and set out to explore
America. Some of the highlights were St. Louis Arch, Mt.
Rushmore, Kennedy Space Center, Grand Canyon and hand
catching catfish with his army buddy in Texas. Always making
sure the family stopped for a church service on Sundays. He
continued to enjoy rides with his children, when he was no longer
able to drive, and he was always the first to spot a deer.
He built his family's home in Russell, PA., and enjoyed
woodworking in his shop. There he made toys & puzzles for his
grandchildren.
He is survived by his wife of 67 years, Myrtle Anderson Ferrie
whom he married at First Lutheran Church, Warren, PA., on
November 12, 1949, 3 children – Kathleen Fithian and husband,
Brad of Russell, PA., Dean Ferrie of Boynton Beach, FL., Lynn
Ferrie of Orange Beach, AL., 3 Grandchildren – James Fithian and
wife, Amanda of Akeley, PA., Kristina Fithian of Boynton Beach,
FL., Thomas Ferrie of Orange Beach, AL., 1 Great Granddaughter
– Andrea Kathleen Fithian of Akeley, PA., several nieces and
nephews also survive.
In addition to his parents, he was preceded in death by 3 Brothers
– Stuart, Pat and Dennis Ferrie, 3 Sisters – Anna Mae Rowley,
Rachel Fox, Mary Lou Roberts.
Friends may call at the Donald E. Lewis Funeral Home, Inc., 304
East Street, Warren, PA., on Monday, November 21, 2016 from 2
to 4 and 6 to 8 P.M. A funeral service will be conducted Tuesday,
November 22, 2016 at 11:00 A.M. at Russell United Methodist
Church with Rev. Jerome Kennedy, Pastor, officiating. Interment
will be in Pine Grove Cemetery where full military honors will be
conducted by members of the U.S. Army Funeral Detail and the
Clarendon/Sheffield V.F.W. Funeral Honor Guard.
Memorials may be sent to Russell United Methodist Church,
earmarked for Find Us Faithful, P.O. Box 28, Russell, PA. 16345 or
Hospice of Warren County, 1 Main Street, Warren, PA. 16365. E-
mail condolences may be sent by visiting