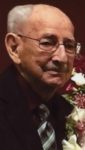 Harold B. Gilson, 93, of Warren, PA, died Saturday, June 11, 2016 at Warren General Hospital.
Born on December 25, 1922 in Warren, PA, he was the son of the late Emery A. and Keziah Kirkham Gilson. Harold lived his entire life in Warren and was a 1940 graduate of Warren High School. He was a production coordinator with United Refining Company for 42 years retiring on January 1, 1985. He was a member of Pleasant Community Church/First Baptist Church of Warren. Harold loved his Lord, family, and friends and was a wonderful example to everyone he came in contact with. A committed father, grandfather, and great-grandfather, he was loved and respected by all who knew him.
Harold is survived by 4 daughters – Linda E. Gilson, and Mary E. Swanson and her husband, Mark, all of Warren, PA, and Emily J. Braley and her husband, David, of Sugar Grove, PA, Susan E. Gilson of Altoona, PA, 3 grandchildren – Michelle Swanson, Brian Johnson and his wife, Elizabeth and their son, Deegan, and Cara Johnson-Ledebur and her husband, Andrew. In addition to his parents, Harold was preceded in death by his wife, Edith Shearer Gilson, who he married on June 17, 1950 at the Bethel E.U.B. Church in Warren, PA. She died on June 13, 2004. He is also preceded in death by 1 sister – Thelma Crouch.
Friends may call at the Donald E. Lewis Funeral Home, Inc., 304 East Street, Warren, PA, on Tuesday, June 14, 2016 from 10:00AM until 11:00AM, at which time funeral and committal services will follow with Rev. Michael Poindexter, Pastor of Pleasant Community Church, officiating. Interment will be in Pine Grove Cemetery, Russell, PA. Those wishing to place a memorial may do so through Pleasant Community Church, 673 Pleasant Drive, Warren, PA, 16365, or to the American Heart Association, 4682 Douglas Circle NW, Canton, OH, 44718. E-mail condolences may be sent by visiting www.lewisfuneralhomeinc.com