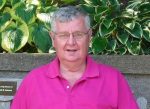 H. Robert "Bob" Carberry, 74, of Warren, PA., died peacefully in
his chair at his residence, Sunday morning, December 17, 2017.
He was born July 23, 1943 in Freeport, PA., to the late Jacob
Magee and Lois Inez McKee Carberry. Bob was a Warren area
resident since 1965. He was a 1961 graduate of Washington
Township High School and earned his Bachelors of Science
degree from Clarion University and his Master's Degree from
Edinboro College. He was employed with the Warren County
School District as a Biology Teacher at Eisenhower High School,
where he had served as coach of the school, Girls Volley Ball
Team and Boys Track Team. Bob was a member of Christ
Scientist Church. He was a volunteer and had served as Chief of
the Starbrick Volunteer Fire Department, active with the Starbrick
Boy Scouts of America Troop. He was an avid hunter and
fisherman. He was instrumental in building the old swinging
bridge at Chapman Dam through the YCC. He was a lover of
dogs and an avid Pittsburgh Steelers and Penguins fan.
Bob is survived by his wife of 52 years, Sandra Chapman
Carberry whom he married June 12, 1965 in Bradford, PA.,
5 Children – David Carberry of Russell, PA., Lisa Suranofsky &
husband, Daniel of Johnsonburg, Pa., Susan Shuart and husband,
Richard, Jr. of Farmville, VA., Cynthia Carberry of Manchester,
PA., Heather Kline and husband, Jonathan of Elon, N.C., 1
Brother – Paul Carberry of Haskell, TX., 8 Grandchildren –
Brandon, Nathan, Sarah, Kyle , Aaron, Jacob, Laura and Jason,
several nieces and nephews also survive.
Friends may call at the Donald E. Lewis Funeral Home, Inc., 304
East Street, Warren, PA., on Tuesday, December 19, 2017 from 2
to 4 and 6 to 7 P.M. when a memorial service will be conducted
by Shannon Yahn of the Christ Scientist Church, officiating.
Those wishing to place memorials may do so through Paws
Along the River, 212 Elm Street, Warren, PA. 16365