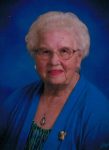 Gladys M. Lindvay, 85, of Warren, PA, died Friday morning, February 24,
2017 at Cambridge Warren following a lengthy/brief illness.
Born on November 10, 1931 in Warren, PA, she was the daughter of the late
Alfred Carl and Alphonsine Bach Anderson. Gladys resided her entire life
in Warren County. Along with her husband, she owned and operated the
former Lindvay Diner in the 1960's in Youngsville, PA and was employed
as a machinist operator with the former New Process Company. She
worked with the Warren County Commissioners with the Welfare
Department Children and Youth and was a home health aide with Warren
General Hospital. Gladys was a member of Holy Redeemer R. C. Church
where she was a former member of the church Catholic Daughters of the
Americas and the Altar Rosary Society. She was a Sugar Grove Senior
Center Volunteer with their exercise program and was a life member of the
Clarendon V.F.W. Ladies Auxiliary and Past President of the V.F.W.
Auxiliary 19th District and County Council, Bradford Cootiette Club and a
member of the World War I Daughter, where she participates every year in
the Memorial Day program at the Warren County Courthouse. Gladys
helped her husband make numerous clocks and sold them nationwide. She
entertained with her father's band "The Coon hunters" during the 40's, 50's
and 60's. She enjoyed baking bread and canning vegetables.
Gladys is survived by her four children – Nancy Marie Gustafson and her
husband, Allan, of Warren, PA, Michael A. Lindvay and his wife, Lona, of
Warren, PA, Sue Ann Irvine and her husband, Bruce, of Panetta, FL, and
Elizabeth McClellan and her husband, Stanley, Jr., of Warren, PA., her
brother, Leroy "Sonny" Anderson of Warren, PA., Gladys is also survived
by her nine grandchildren, Carrie Gustafson, Tracy (Mathew) Carlson,
Chris (Emily) Lindvay, Kevin (Amanda) Lindvay, Doug (Bobbi) Irvine,
Dustin Irvine, Kellie (Joseph) Goldthwaite, Stephanie (Toby) Larson and
Amy McClellan, 9 great-grandsons and 5 great-granddaughters and
another great grandchild is due to be born in September and a great great
grandchild is due to be born in July, which would have made 5
generations, several nieces and nephews also survive. In addition to her
parents, Gladys was preceded in death by her husband, Michael V.
Lindvay, whom she married on June 18, 1949 and who died on September
17, 2012, and one sister, Margaret L. Joyce.
Friends may call Monday, February 27, 2017 from 3 to 7:00 P.M., at the
Donald E. Lewis Funeral Home, Inc., 304 East Street, Warren, PA, where a
vigil service will be held at 2:45 P.M. A Mass of Christian Burial will be
conducted at 11:00 A.M. on Tuesday, February 28, 2017 at Holy Redeemer
R. C. Church, 11 Russell Street, Warren, PA, with Fr. James Gutting, Pastor,
officiating. Entombment will be in the Mausoleum of the Resurrection in St.
Joseph R.C. Cemetery.
Those wishing to place memorials may do so through a charity of one's
choice. E-mail condolences may be sent by visiting