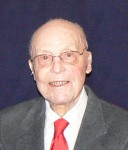 Gilbert "Jim" Reier, 99, passed away on Thursday, February 7, 2013 at Warren General Hospital. He was born on April 5, 1913 in Pittsburgh, PA. to the late Louis B. and Bertha E. Reier. Graduated from Dormont High School in 1932 and entered the School of Forestry at Penn State that same year, graduating in 1936. He met Bertha Gregory while they were both students at Penn State and were married on September 20, 1936 at Grace Lutheran Church in State College. He was employed by the Bell Telephone Company in Pittsburgh as a draftsman and transferred to Warren in 1937. He became Superintendent of Parks and Playgrounds for Warren in 1942 and as Superintendent of Public Works in 1968, retiring in 1978. Jim was a member of First Lutheran Church, served as Sunday School Teacher and Sunday School Superintendent. He was a member of Church Council and the Property Committee for both the Parish Education Building and the Church edifice. He and his wife maintained the church grounds for a period of 20 years. Jim served with the U.S. Navy Seabees during World War II.
He is survived by his son-in-law, Richard Schultz, 5 Grandchildren, 7 Great Grandchildren, and 3 Great Great Grandchildren. In addition to his parents, he is preceded in death by his daughter Bonnie Schultz in April 1987 and by his wife of 68 years in July 2005.
Friends may call on Monday, February 11, 2013 at First Lutheran Church parlors from 10:00 A.M. until 12:00 Noon. A funeral and committal service will be conducted Monday at 12:00 Noon by Rev. Jeffrey Ewing, Associate Pastor and Rev. David Blank, Pastor, officiating. Interment will be in Warren County Memorial Park. In lieu of flowers, contributions may be made to the First Lutheran Church, 10 W. Third Avenue, Warren, PA. 16365 or a charity of one's choice. E-mail condolences may be sent by visiting www.lewisfuneralhomeinc.com The Donald E. Lewis Funeral Home, Inc. is entrusted with funeral arrangements.