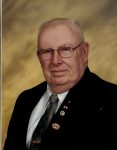 Gerald W. "Jerry" Dorrion, 77, of Tiona, PA., died Friday morning, February 10, 2017 at his residence after an illness since September 2016. He was born July 31, 1939 in Warren, PA. Jerry was the son of Gerald Floyd and Marjorie Snow Dorrion. He was a Warren area resident his entire life and a 1957 graduate of Warren High School. He was employed as a machinest with the former National Forge Company for 30 years and owned and operated Modern Floor Service for 30+ years. He was a member and trustee at the Tiona United Methodist Church, member of Stillwater Masonic Lodge #547, Coudersport Consistory, NCCT Camping Group, Gold Wing Motorcycle Chapter Q and Kinzua Antique Car Club. He served as president of the Tassel Club.
He was an avid hunter and in younger years, enjoyed trout fishing. He loved to travel and spending time with family while camping.
He is survived by his wife, Joanne Edinger Dorrion, 1 Daughter – Sandra Dorrion-Gabriel of Meadville, PA., 1 Son – Robert Dorrion and wife, Ellie of Youngsville, PA., 2 Brothers – Ted Dorrion and wife, Jill Diane of Tiona, PA., James Robert Dorrion and wife, Paula of Fairpoint, N.Y., 6 Grandchildren – Austin Dorrion of Youngsville, PA., Jessica Dorrion of Forksville, PA., Marjorie Gabriel-Hedmeck of Walnut Port, PA., Kimberly Dorrion of Youngsville, PA., Nicholas Gabriel of Meadville, PA., Daniell Rhoades of Youngsville, PA., 5 Great Grandchildren, several nieces, nephews and cousins.
In addition to his parents, he was preceded in death by his 1st wife, Lynda L. Winderl Dorrion on October 24, 2008 whom he married June 5, 1959 in Frewsburg, N.Y., 1 infant son, Gerald Robert "Little Jerry" Dorrion.
Friends may call at the Donald E. Lewis Funeral Home, Inc., 304 East Street, Warren, PA., on Tuesday, February 14, 2017 from 5 to 8 P.M., where members of the Stillwater Masonic Lodge will conduct their funeral ritual at 7:30 P.M.
A funeral and committal service will be conducted at the funeral home on Wednesday, February 15, 2017 at 11:00 A.M. with Rev. Martin Reynolds, Pastor, officiating. Interment will be in Sheffield Cemetery. Those wishing to place memorials may do so through Shriner's Hospital for Children, 1645 W. 8th Street, Erie, PA., 16502 or Hospice of Warren County, 1 Main St., Warren, PA., 16365. E-mail condolences may be sent by visiting www.lewisfuneralhomeinc.com