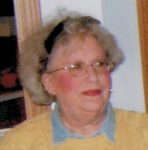 Georgene L. Kornreich, 81, of Warren, PA, passed away on Wednesday, November 22, 2017, at the John and Orpha Blair Hospice Residence in Warren, PA.
Born on November 14, 1936 in Warren, she was the daughter of the late George and Louise Skrzycki Pappas. On October 22, 1957 in Bellefonte, PA, she married Stuart R. Kornreich, who survives.
Georgene was a 1954 graduate of Warren Area High School. A homemaker most of her life, Georgene enjoyed antiques and collectibles which led to her opening her own business, "Something To Crow About" in Youngsville, PA. She was a great lover of music, enjoying classical, jazz, big band, she loved it all. She also enjoyed dancing with her husband. Georgene was a member of Trinity Memorial Episcopal Church.
Georgene is survived by her husband of 60 years, Stuart R. Kornreich, 3 sons – Scott Kornreich of Lady Smith, VA, Andrew Kornreich (Cliff Alberte), of Pittsburgh, PA, and Chris Kornreich of Youngsville, PA; 1 daughter – Penny Lockett Kornreich of Buffalo, NY; 3 grandchildren – Garrett Lockett, Scotty Kornreich and Melissa Kornreich, and 3 great grandchildren. In addition to her parents, Georgene was preceded in death by twin sons – Jamie and Louis Kornreich.
Friends may call at the Donald E. Lewis Funeral Home, Inc., 304 East Street, Warren, PA, on Monday, November 27, 2017, from 6-8P.M. Funeral and committal services will be held at the funeral home on Tuesday at 11:00 A.M. with The Rev. Matthew Scott, Vicar of Trinity Memorial Episcopal Church, officiating. Interment will follow at Warren County Memorial Park. Those wishing to place a memorial may do so to the benefit of the John and Orpha Blair Hospice Residence through Hospice of Warren County, 1 Main Avenue, Warren, PA, 16365. E-mail condolences may be sent by visiting www.lewisfuneralhomeinc.com