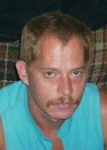 George R. Shenk, 45, of Warren, PA. died Saturday, December 6, 2014. He was born August 22, 1969 in Warren, PA. He was the son of Elmer and Nancy Lindeman Fry. He enjoyed camping, cooking, Miami Dolphins Football Team and spending time with his family.
He is survived by his fiancé, Kimberly Woods, 1 Son – Ethen Shenk, 2 Daughters, Jessy Shenk, Katie Hinderman, 2 sisters – Tammy Lindeman and Connie Fry, 4 Brothers – Lonny Fry, Breck Fry (Theresa), Elmer Fry (Deloris) Daniel Fry (Jamie), 4 Grandchildren – Natalya, Mika, Sky, Arabrella, several nieces and nephews. In addition to his parents, he was preceded in death by a son, Michael R. Shenk in 1991 and grandson, Daniel Fridenmaker in 2010.
A memorial service will be conducted Saturday, January 3, 2015 at the Salvation Army, 311 Beech Street, Warren, PA. at 2:00 P.M. The family suggests donations in George's memory be made to the Donald E. Lewis Funeral Home, Inc., 304 East Street, Warren, PA. 16365, to help defray funeral expenses.