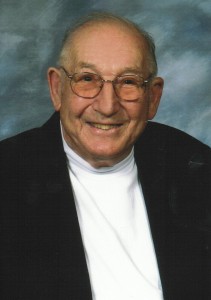 George H. Merritt, 83, of Russell, PA. passed away peacefully Friday, November 25, 2011 at Desert Regional Medical Center, Palm Springs, CA. as a result of an injury sustained in a fall. He was born September 13, 1928 in LeMars, Iowa, son of the late Percy R. Merritt and Blanche B. Harrison Merritt Haller. He resided in the Russell area since 1954. George was a friend to everyone he met, was generous to the church, his family and several charitable organizations. He enjoyed meeting friends for breakfast each morning and will be missed by many. George loved family dinners and celebrations and especially enjoyed spending time with his grandchildren and great granddaughters. He loved the Lord with all his heart and was a proud Veteran who shed a tear each time he stood for the National Anthem.
He was employed at GTE Sylvania as a setup man in the Weld Dept., retiring in 1991 after 41 years of service. He formerly served as treasurer for the International Association of Machinists Union for GTE Sylvania, Warren. He was a member of the Russell United Methodist Church, and the Good Samaritan Sunday School Class, serving as treasurer for many years and was a head usher for over 50 years and had served as a Trustee. George was a 32nd Degree Mason with the Coudersport Consistory, Past Master of the North Star Lodge #241, past Monarch of the Farah Grotto, past High Priest of the Occidental Royal Arch Chapter #235, member of the Warren Commandry #63 and former member of the Zem-Zem Shriners and the Warren County Shrine Club. He was a member of the American Legion Post #135, Warren Eagles Club, Lakewood Rod & Gun Club, and GTE Sylvania Quarter Century Club. He was a Life Member of over 50 years with the Russell Volunteer Fire Dept. and was a member of the Pine Grove Cemetery Association. He served as a Sergeant in the Iowa State Guard and the U.S. Navy during World War II as a Yeoman 3rd Class. After moving to Russell, h served as a local Civil Defense Police Volunteer.
He is survived by his son, Merle M. Merritt and wife, Susan of Warren, PA., three daughters, Kathy J. Russell and husband, Thom, Sharon R. Birtcil and husband, Gary all of Russell, PA., Diane P. Ervin and husband, Ron of Warren, PA., 1 brother – Merle Merritt and his wife, Elizabeth; and Sister in law, Patricia Merritt, all of Twentynine Palms, CA., half-sister Sallee Merritt Christensen of LeMars, Iowa, 2 grandchildren – Holly R. Strausser and husband, Paul of Russell, PA., Andrew T. Russell of Cranberry Twp., PA., 2 great granddaughters – Elizabeth (Ellie) and Megan Strausser of Russell, PA., all whom lovingly referred to their Grandpa as "Minka", several cousins, nieces and nephews. In addition to his parents, he was preceded in death by his 1st wife, Bettie E. Schweitzer Merritt who died July 3, 1958, his 2nd wife, Shirley M. Houck Merritt who died February 15, 2007, his grandson – Damon Michael Johnson who died November 17, 1970, and a brother, Milton Merritt who died November 5, 2011.
Friends may call at the Donald E. Lewis Funeral Home, Inc., 304 East Street, Warren, PA. on Friday, December 2, 2011 from 2 to 4 and 7 to 9 P.M. where a Masonic service will be conducted by members of the North Star Masonic Lodge at 6:45 P.M. A funeral and committal service will be conducted Saturday at 11:00 A.M. at the Russell United Methodist Church with Rev. David Heckman, Pastor, officiating. Full military honors will be conducted following the funeral service at the church by members of the U.S. Navy. Interment will be in Pine Grove Cemetery, Russell, PA.
The family suggests in lieu of flowers, memorial contributions may be made through the Russell United Methodist Church Building Fund, P.O. Box 28, Russell, PA. 16345. Those wishing to submit e-mail condolences may do so by visiting www.lewisfuneralhomeinc.com