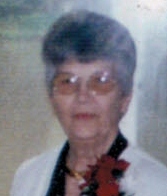 Genevieve C. Hennessy, 85, of Youngsville, PA died Monday morning, June 18, 2012 after a one week stay in the Rouse Warren County Home. Born November 11, 1926 in Warren, PA to the late Anthony and Catherine DePhillips Scalise, she was a graduate of Warren High School and had resided in the area her entire life. She was employed with United Refinery in the cafeteria and in the returns department at the former New Process Company. She was a member of St. Luke's R.C. Church.
Genevieve is survived by her husband – Robert L. Hennessy, whom she married August 17, 1946 in Warren; Three children – Frances Hubbard and her husband, Gail of Brandon, FL., Robert A. Hennessy and his wife, Joyce of Clarendon, PA., and Rose Marie Hennessy of Warren; A sister in law – Helen Scalise of Warren; A brother in law – Sherman Irwin of Warren; Nine grandchildren; and 15 great grandchildren. Several nieces and nephews also survive.
In addition to her parents, she was preceded in death by two brothers – Dominic and Gene Scalise; and a sister – Rose Knight.
A Mass of Christian Burial will be conducted at 10:00AM Saturday, June 23, 2012 at St. Luke's R.C. Church with Fr. John Neff, Pastor, officiating. Friends will be received one hour prior to the Mass. Private entombment in the Mausoleum of the Resurrection in St. Joseph R.C. Cemetery will follow. Memorial contributions should be directed to St. Luke's R.C. Church, 420 North Main Street, Youngsville, PA 16371. The Donald E. Lewis Funeral Home, Inc is assisting the family. Online condolences may be offered to the family at www.lewisfuneralhomeinc.com.